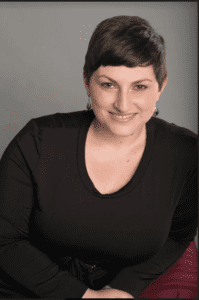 Cassie (she/her) is over the moon to return to Traveling Players Ensemble for her fourth year on staff and seventh overall. A Maryland native, Cassie now lives in Denver where she teaches singing and acting lessons through her own company, Third Place Arts. Prior to opening 3PA, she was a middle school choir and theatre teacher for four years. Her two favorite directing ventures were The Rules of Comedy (a hilarious show about making the last act of Hamlet funny) and Agatha Rex (an adaptation of the ancient greek tragedy Antigone set in a contemporary high school).
She earned a Bachelor of Music in Music Education and a Vocal Performance Certificate from Colorado State University where she performed leading roles in operas and musicals including Papagena in Mozart's The Magic Flute, Anne in Sondheim's A Little Night Music, and Casilda in Gilbert & Sullivan's The Gondoliers. She was also named Singer of the Year in 2009 and gave a senior voice recital featuring music by composers and poets who lived with mental illness. In December of 2019, she completed a Master of Arts in Theatre Education from the University of Northern Colorado.
In addition to her passion for theatre, music, and teaching, Cassie is an avid U.S. Women's Soccer fan. She also loves baking bread and playing with her cat, Tulo.