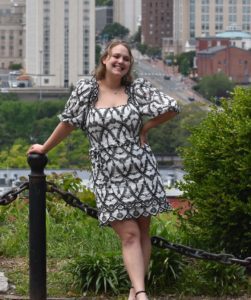 About to begin her eleventh summer at Traveling Players, Katie (she/her) has spent seven years as a student, plus four on faculty working with our Thespian Ensemble. She has assistant directed Moliere's Doctor in Spite of Himself, Imaginary Invalid and Gozzi's Blue Monster, all performed by our Thespian Ensemble. Since her first show in 2011, she has performed with the Thespian Ensemble, Shakespeare Ensemble, Shakespeare Troupe, and participated in the numerous classes offered throughout the academic year.
Katie is a recent graduate from Virginia Commonwealth University (VCUarts) with a BFA in Theatre with a minor in Education. Katie was selected to serve as Comedy Consultant for the VCU Undergraduate Research Grant Production of Noises Off. As such, she offered assistance in standup comedy, physical comedy, and hosted a Comedy Night Performance for the cast and community. She was the president of VCU's student theatre, Shafer Alliance Laboratory Theatre and the team captain for the VCU house improv team.
Katie can't wait to be at camp this summer! In fact, she is already planning all of the fun games and activities for her rehearsals!