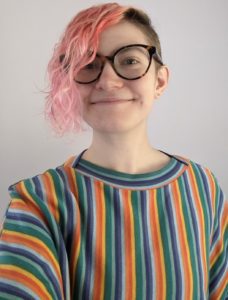 Lindsay Cavallo (they/them) is overjoyed to be returning to Traveling Players for a second year as the head of the props and scene shop. Lindsay earned their BFA in studio art from Carnegie Mellon University where they built puppets and interactive installations with a focus on collective environmental storytelling and objects with memory. In addition, they were a performing member of CMU's improv troupe the No Parking Players, managing to be so insufferable that they were voted president.

Since graduating, they have worked as a theatre technician building puppets and props for a variety of disgusting and delightful purposes. Lindsay is an accomplished puppet maker, having worked as an artistic associate at Lone Wolf Tribe for the production of The God Projekt at La Mama Experimental Theatre Club, as well as an apprentice at The Puppet Kitchen. They pride themselves in being a professional dabbler, jumping in between different productions and collecting skills. They have built gorey monstrosities for Gateway's Haunted Playhouse, deftly fabricated delicate floral arrangements and intimidating upholstery for the Aspen Opera Center, and scampered about backstage wrangling props and actors at the Actor's Studio Drama School.
Lindsay is based out of New York and loves to complain about trains. When not building unfortunate things for work, Lindsay enjoys building unfortunate things for personal use, as well as yelling at the atlantic ocean and making various soups. A curated collection of their work can be found at their website: 
lindsaycavallo.com
.