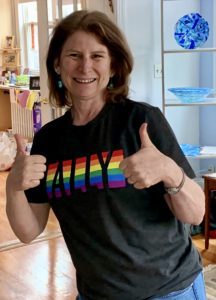 Lori has worked as a theater and visual arts educator throughout her career.  She is an alumna of Drew University's Theater Arts program and has been an American Sign Language and Deaf Culture student at Gallaudet University. Lori was a company actress and the assistant director of The Berkshire Public Theater's children's company, has taught with the Kennedy Center Youth Education program, and did community outreach for The Living Stage. She has designed and facilitated art, community service, and drama workshops.
Lori was the Middle School Drama Director at the National Cathedral and St. Alban's schools for 16 years.  She has taught theater and art classes at Georgetown Day School, Sheridan, Sidwell Friends, The Lowell School, and Janney Elementary. 
She is a native Washingtonian and is a studio artist at the Art Glass Center at Glen Echo Park.  Lori is excited to work with Traveling Players!