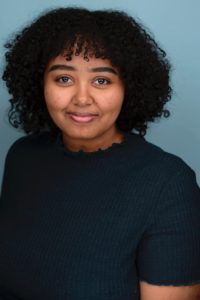 Actor, director, and advocate for artists of color, Maereg (she/they) worked with Traveling Players to develop a dramaturgy curriculum to consciously teach Anti-Racism. First taught in 2021, we now offer Classical Literature & Embedded Bias to the public for students of all ages as part of a new Community Conversations series. Addressing the narrow scope of representation and inherently racist, sexist, and homophobic tropes and themes of classical theatre, the syllabus includes lesson plans on Maya Angelou's poetry and Maria Irene Fornés' plays and is intentionally intersectional.
Maereg is an alumna of Traveling Players as both a camper (4 years) and assistant director (3 years). Their first time ever acting was in the Shakespeare Ensemble's production of The Two Gentlemen of Verona.  In addition to that, she also performed in Shakespeare Troupe, Fall Classes, and Classics in Performance.
She earned a BA in Theatre from Muhlenberg College where she studied Theatre with a concentration on acting and performance studies. Previously, they served as Assistant Director to Jeffrey Page, an opera and theatre director, for Muhlenberg's production of A Raisin in the Sun as well as an Assistant Stage Manager. They also directed A Feeling of, Feeling For which was a devised piece that centered BIPOC stories of loss and grief. Maereg was the president of Muhlenberg college's theatre association and before that, she served in various leadership roles.