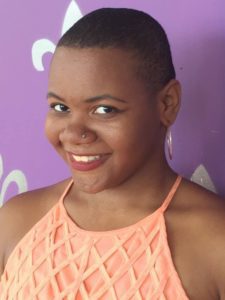 Maria Simpkins (she/her) defines herself as a creativist; person who intentionally constructs spaces for positive change. A TPE alum, Maria uses verse, spoken word, dance, and theater to create ensemble-based activism works. With Traveling Players, she directed this past summer's Pandora's Fire and assistant directed/choreographed Merchant of Venice, Twelfth Night, The Great War, The Bourgeois Gentleman, and The Women of Troy.
She recently returned to the area, focusing on children's theater. Locally she has performed with Adventure Theatre, The Wheel, and Arts on the Horizon. Upcoming productions include: Little Robber Girl in Synetic Theater's Snow Queen and Mary Fields in Smithsonian's Discovery Theater's Into the Great Unknown. She will join the Smithsonian's Creative Tools For Teaching program as a performing teaching artist as well as Education Theatre Company's Shakespeare in the Schools performing teaching artist residency team.
She was a performer, writer and choreographer for the sold out show Speak Up, Speak Out with The Detroit Actors Theater Company. She and the show will be returning to Detroit for its remount this spring. She is a founding member of the Young Fenix Artist Collective and the Demere Collective. Trained at Wayne State University, Maria has been acting for 13 years, dancing for 12, and directing for 8. She is a classically trained ballroom and flamenco dancer with 5 years of hip hop and freestyle experience.
She's excited for what this Midsummer's night has in store!