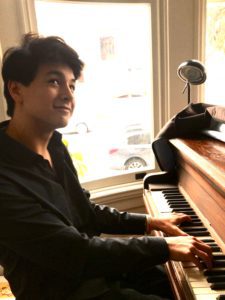 Nathan Sherwood Liang (he/him) is a composer, producer, and instrumentalist from San Francisco, CA. As a child, Nathan was influenced by the classical and jazz standards enjoyed by his family, and he began his musical education at age eight with the jazz pianist Ken French. 
Studying jazz piano, and teaching himself trumpet, guitar, and mandolin with the help of friends and family, Nathan made his way through high school where he played in his school jazz band and studied music theory. Outside of school, Nathan's jazz trio had regular gigs at a supper club (plus a few performances at other events in San Francisco), he also scored several independent films and plays and entered an original piece in an art competition for climate awareness (winning the Bowseat Judges Pick Award in 2020).
After high school, Nathan took a gap year and continued to develop his interest in scoring: composing original music for more films and plays, studying music theory, orchestration, and film scoring with Berklee and NYU, and embarking on a "100 days of composition" project on Instagram—where he wrote a short original orchestral piece every day for 100 days.
Now Nathan is majoring in music at Williams College in Massachusetts. He recently worked with a professor on a project funded by the National Science Foundation. He traveled to Ireland, where he recorded sounds of the coast and made The Storm Orchestra – virtual instruments created out of those recordings. Read more about it here. He continues to write and produce whenever he can, and is excited to keep learning about music! https://nathansherwoodliang.weebly.com/