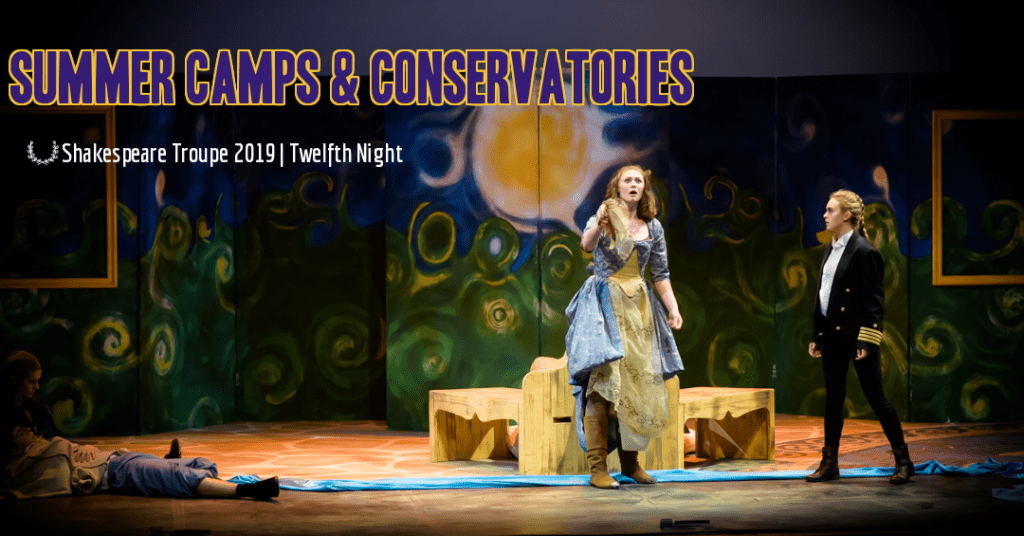 This is Traveling Players' 21st summer of creating theatre, friendships, and memories — with the best people: theatrical teens and pre-teens!  You could live in a lodge at our sleepaway acting camp & residential conservatory program or spend the week at our day camp in our Tysons Studio.  Either way, our beloved directors and teaching artists are ready to take you on an artistic adventure! 
♦ 8:00 AM – Good Morning Traveling Players!
Wake up and get ready for the day in your cozy lodge (fully finished, and complete with AC, kitchenette, and plumbing)
Our campus features 3 lodges around a central quad. Campers live with near-age peers, expanding their friendships to other ensembles.
Each lodge includes two sleeping bays of 8 to 12 beds (4-6 bunks).
Staff live in private rooms within the lodges so that they are nearby, attentive, and available, while still allowing campers an appropriate level of privacy.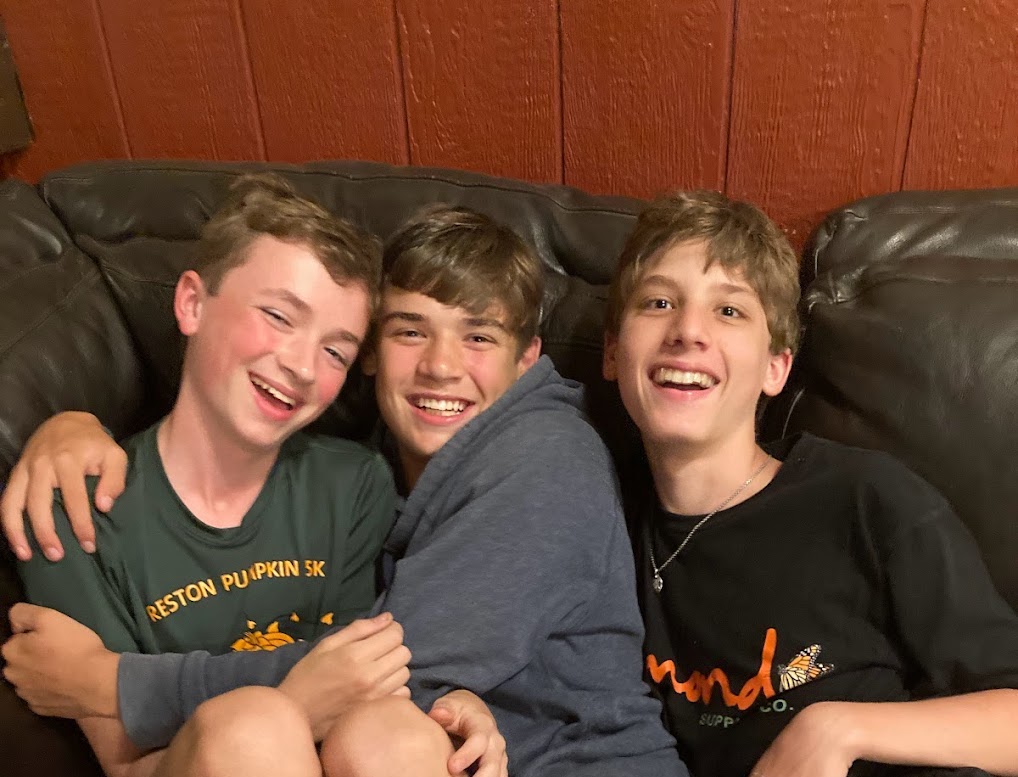 ♦ 8:30 AM – Breakfast
Fuel up for a busy day of theatre and adventure!
Sample Menus
Bacon, Sausages (Meat or Veggie), Scrambled Eggs & Toast
I would like to let you know how grateful we are to have Traveling Players! [Our teen] has absolutely blossomed under the tutelage of your programs, and has become, quite literally, a new person. She is gaining confidence, not only as an actor, but as a person. And for that, you and the Traveling Players crew have our deepest thanks; for everything you do and offer!

-Parent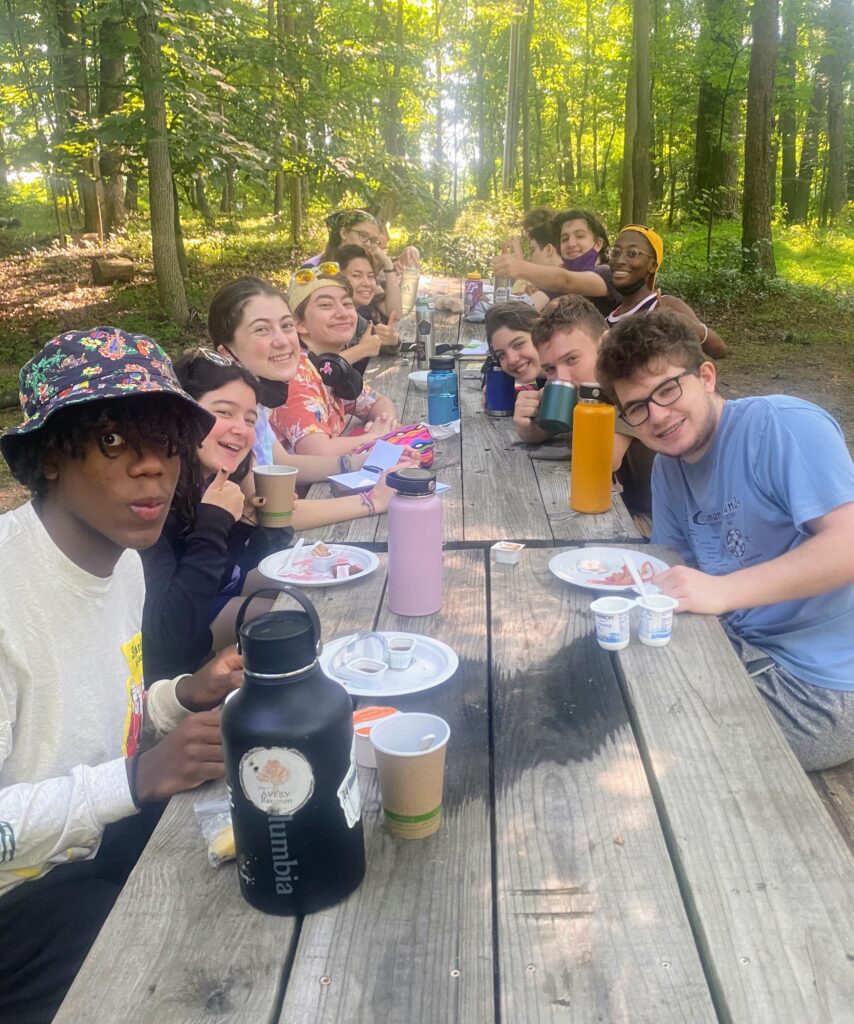 ♦ 9:45 AM – Morning Rehearsal
Jump into the rehearsal day with your expert directors – don't forget your script!
Small by Design…
Our immersive, 1:4 faculty-to-student ratio guarantees each student receives personalized training and attention. In practice that looks like one director blocking a scene with a group of 3-4 actors on stage, another working on character analysis and physicality, and the third running a fight scene.
Our students see tremendous growth in their skills as performers because they spend their full rehearsal day engaged directly with our talented teaching artists – not just waiting for their entrance in the wings.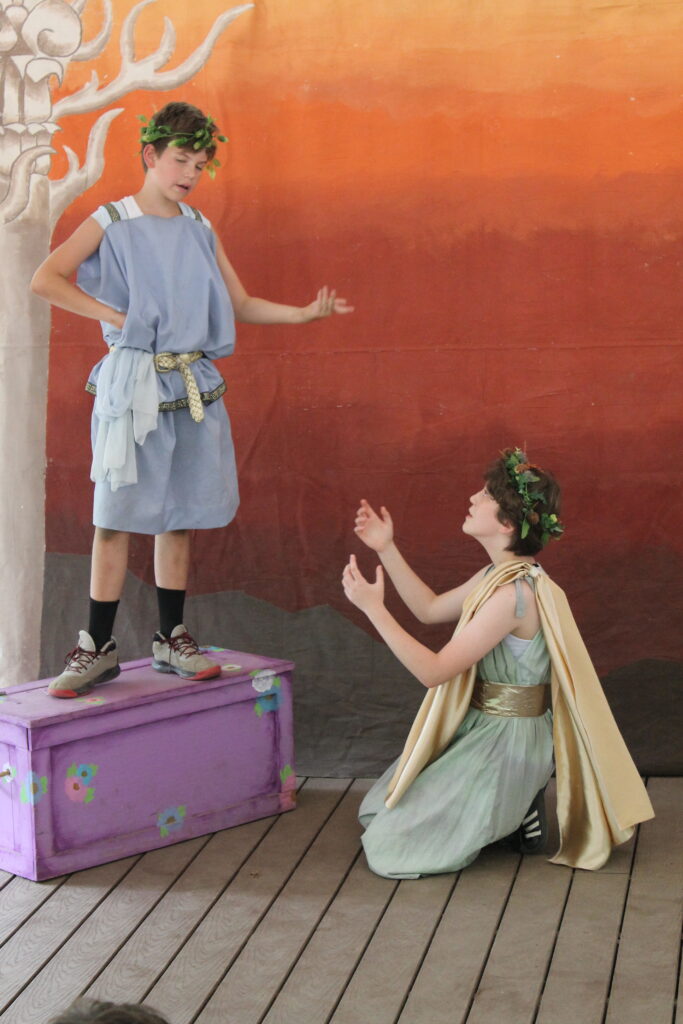 ♦ 12:00 PM – Lunch
Take a break from rehearsal, catch up with friends from other ensembles, and refuel – we still have tons of new theatrical challenges waiting for you in the afternoon!
Sample Menu:
Grilled Cheese, Tomato Soup, & Salad
Acting created a place for me to express myself and to feel like people are listening — and being at Traveling Players made me feel as if I was worth listening to. It's a wonderful feeling.

— Camper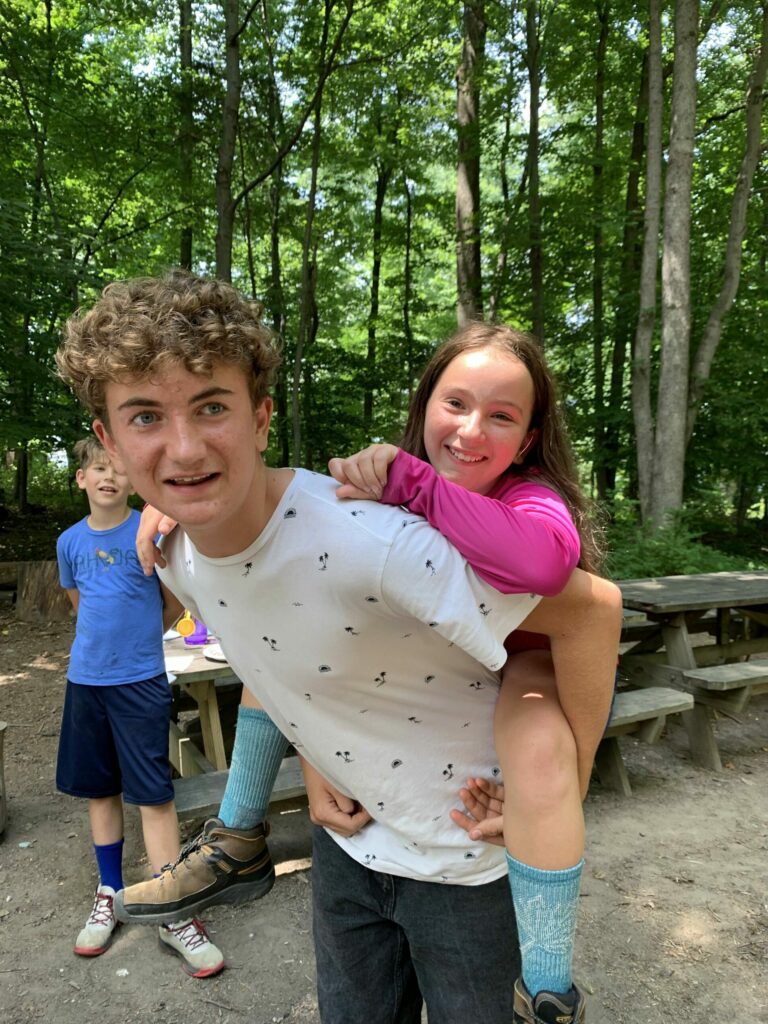 ♦ 1:00 PM – Class
Your training continues offstage in daily classes taught by our expert faculty. Classes dive deeper into one specific skill that will make you a stronger performer and artist.
Class Rotations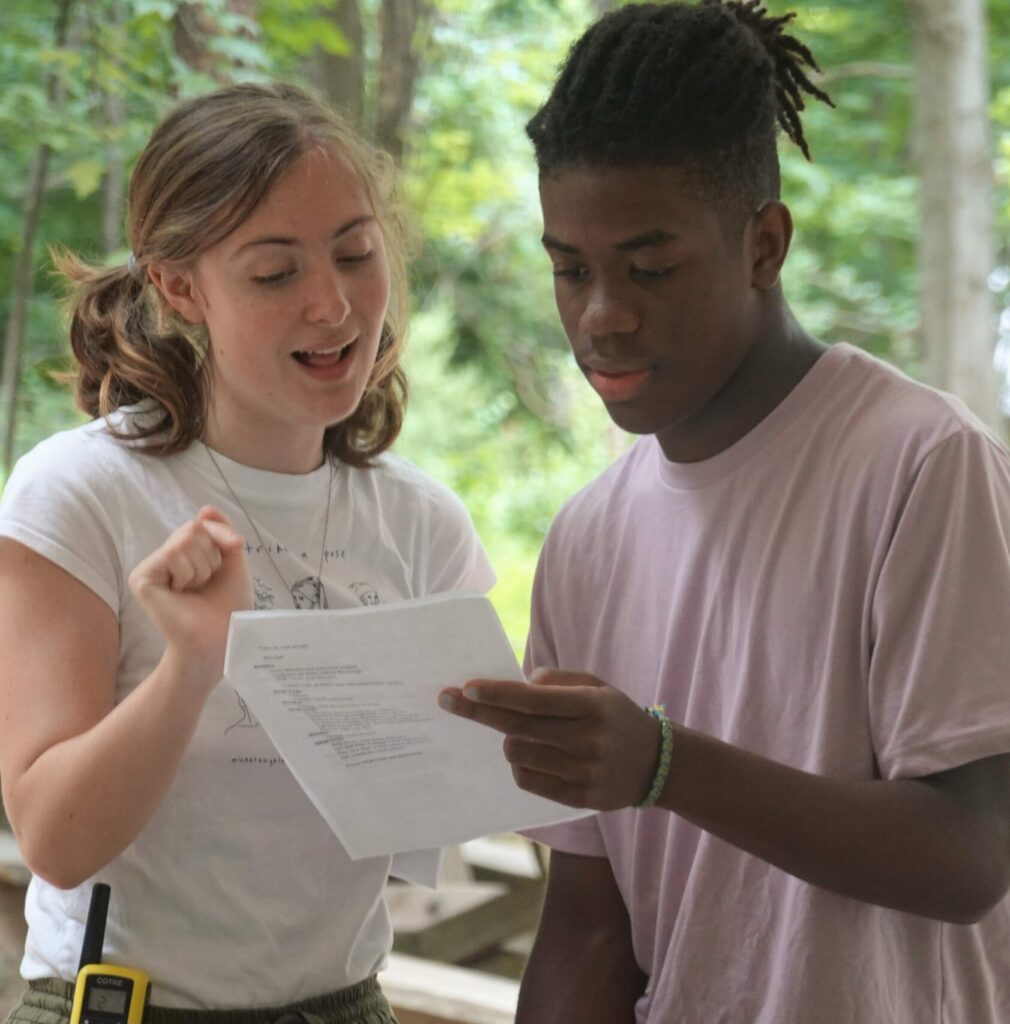 ♦ 2:00 PM – Afternoon Rehearsal
Jump back into rehearsal, you only have a few short weeks to perfect your final performance!
…Awarded for Excellence
Selected as 1 of 25 model Summer Schools in the Arts by the NEA
Arts Education Award, 2020-21, ArtsFairfax
#1 Arts Camp in the Nation, CampEasy
Featured in Catalogue for Philanthropy, "featuring the area's best, vetted, community-based charities for high-impact local giving"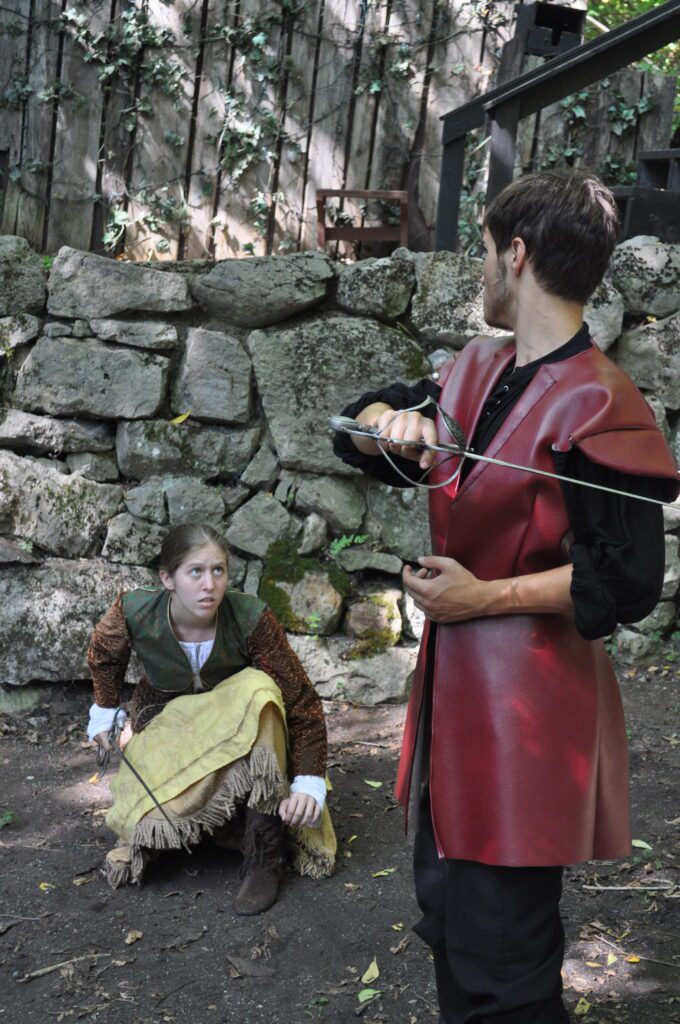 ♦ 4:00 PM – Free Period
Go on a hike, make Arts & Crafts, relax by the lake, or memorize your lines!
Putting together a full-length Shakespeare play in a few short weeks requires commitment from all of the members of the cast. The work ethic that I learned from Traveling Players helped me to success in high school and now in college.

– Alum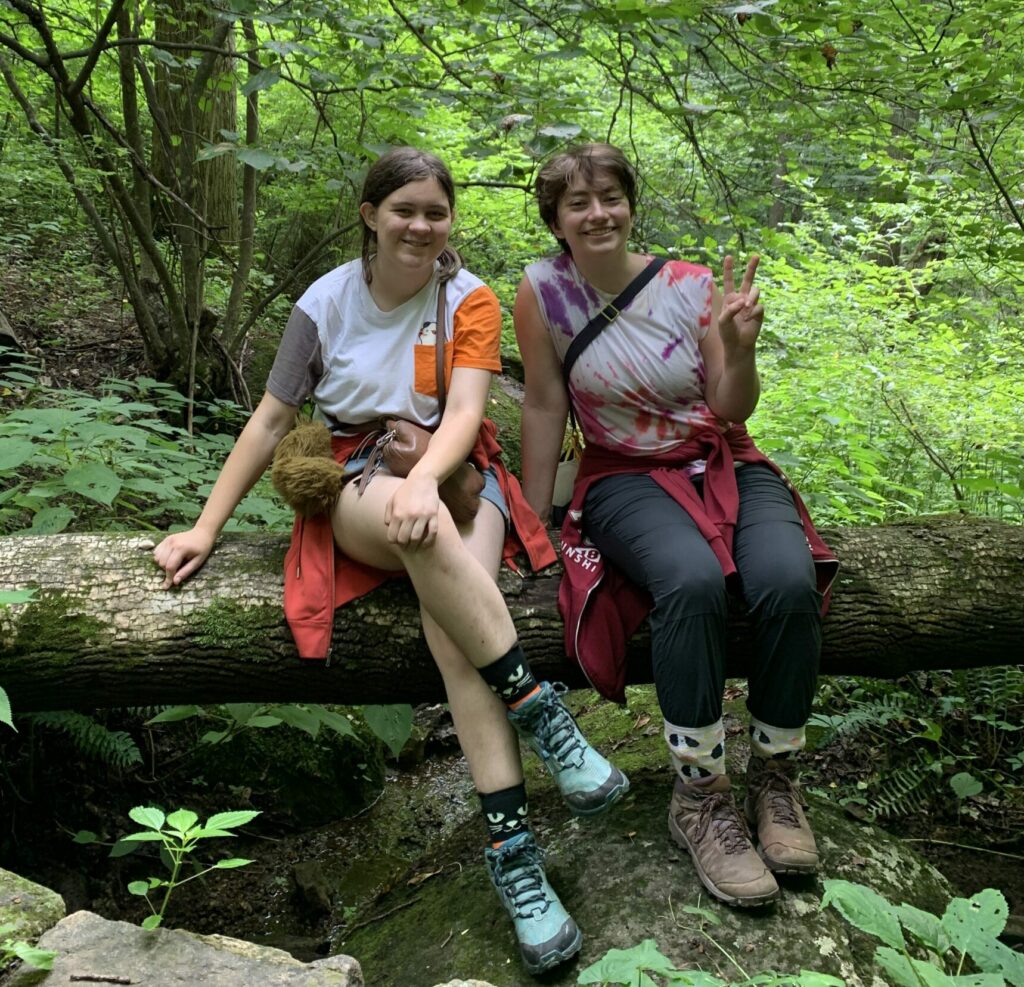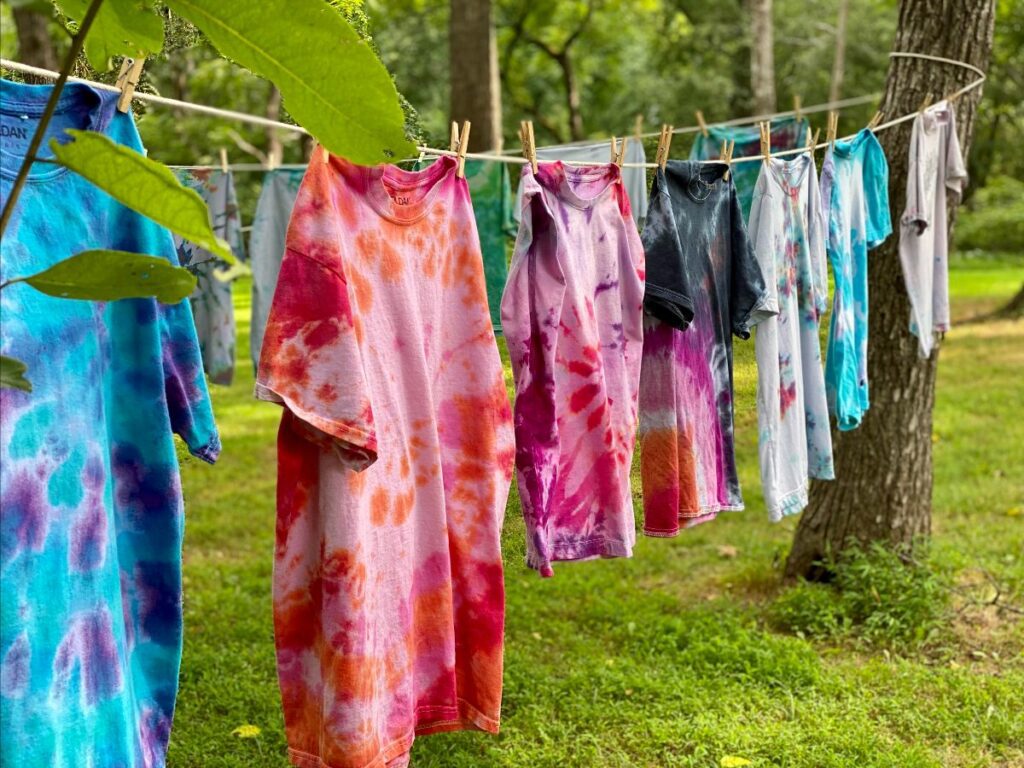 ♦ 6:00 PM – Dinner
Have a delicious meal with friends! On Friday nights, we'll do a campfire meal – complete with the camp dessert staple, S'Mores!
Sample Menu
Taco Bar: Build your own! Chicken, ground beef, beans, cheese, sour cream,  fresh veggies, and guacamole
Weekly Campouts
Theatre began around a campfire, where people told stories, in the dark.  Their stories were of identity– origin myths, their challenges, accomplishments, trials and triumphs.  We continue that trend at Traveling Players, keeping theatre wild, singing around a campfire, telling our own stories and connecting with nature.  Time spent off-stage and out-of-role allow campers to bond, forming friendships that last a lifetime.  The trust that is built during campouts translates to the stage as compelling performances.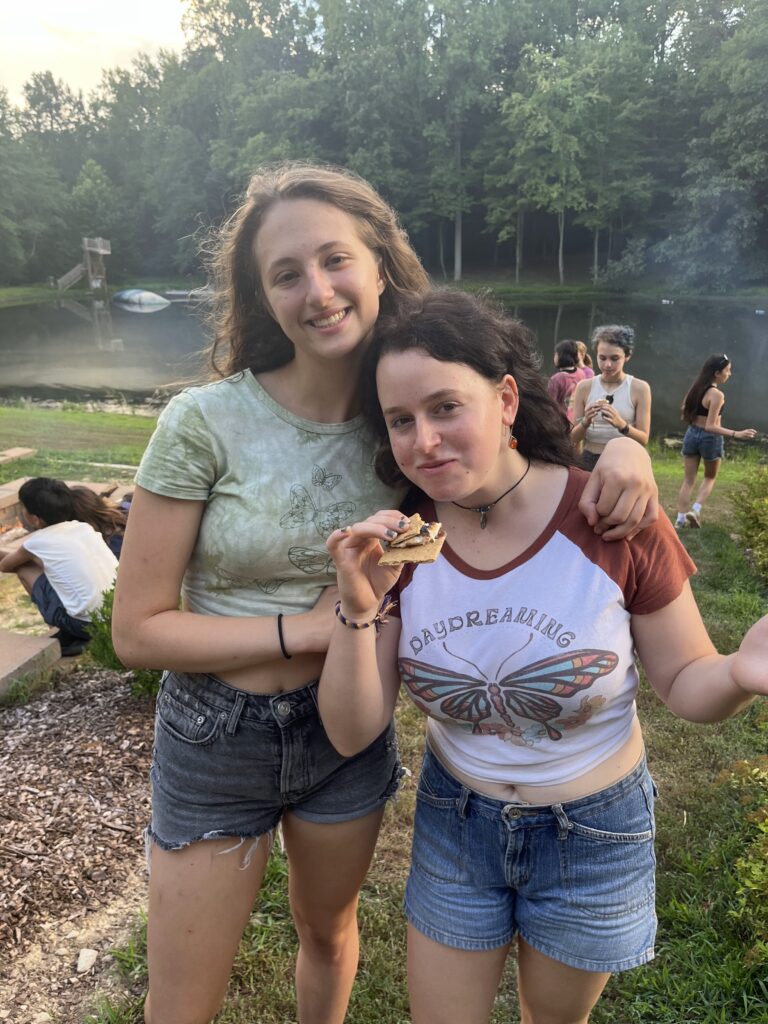 ♦ 7:30 PM – Evening Activity
After chores, enjoy either nighttime rehearsal or a camp-wide activity! Activities include: Skits, Open-Mic Nights, Scavenger Hunts, DnD Campaigns,  Movies Under the Stars, & more!
Appropriate Challenges
Climbing mountains, pitching tents, creating characters – at Traveling Players we craft age-appropriate programs designed to challenge our students.  Our students know that the successes they have off stage allows them greater success on stage.  The result: pride in their accomplishments, trust in their abilities, and confidence to tackle more in the future.
♦ 9:30 PM – Evening Down Time
Hang out with friends, and unwind from the day while getting ready for day.
Unplugged, yet Deeply Connected
With no cell phones or social media around, students get the chance to unplug and meaningfully connect with peers.
But don't worry, they can still reach home through our camp mail & email system which is delivered daily!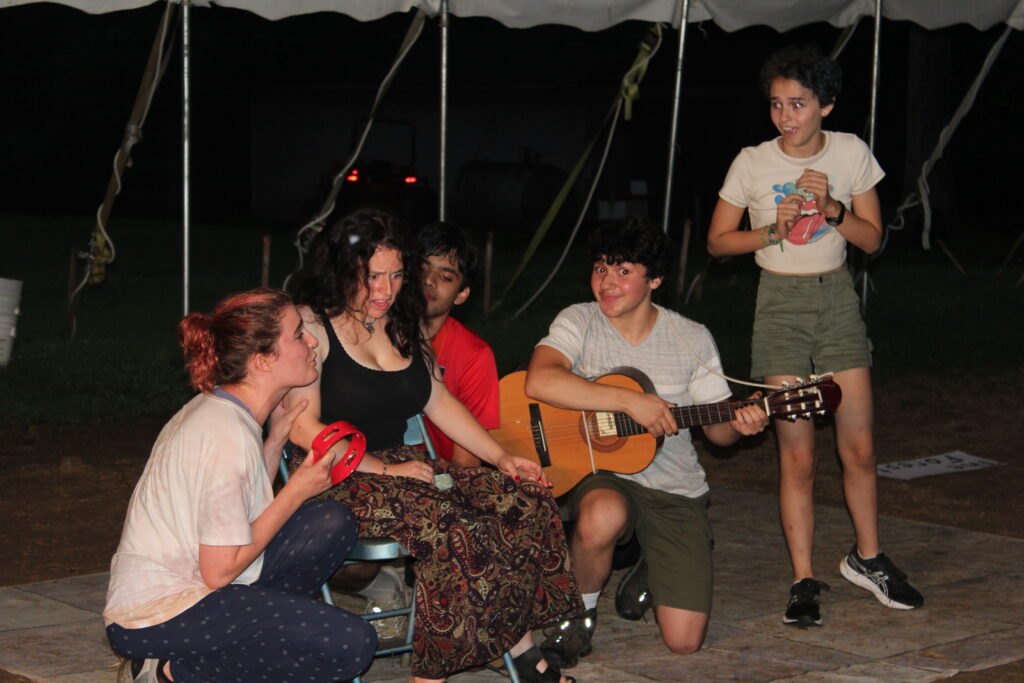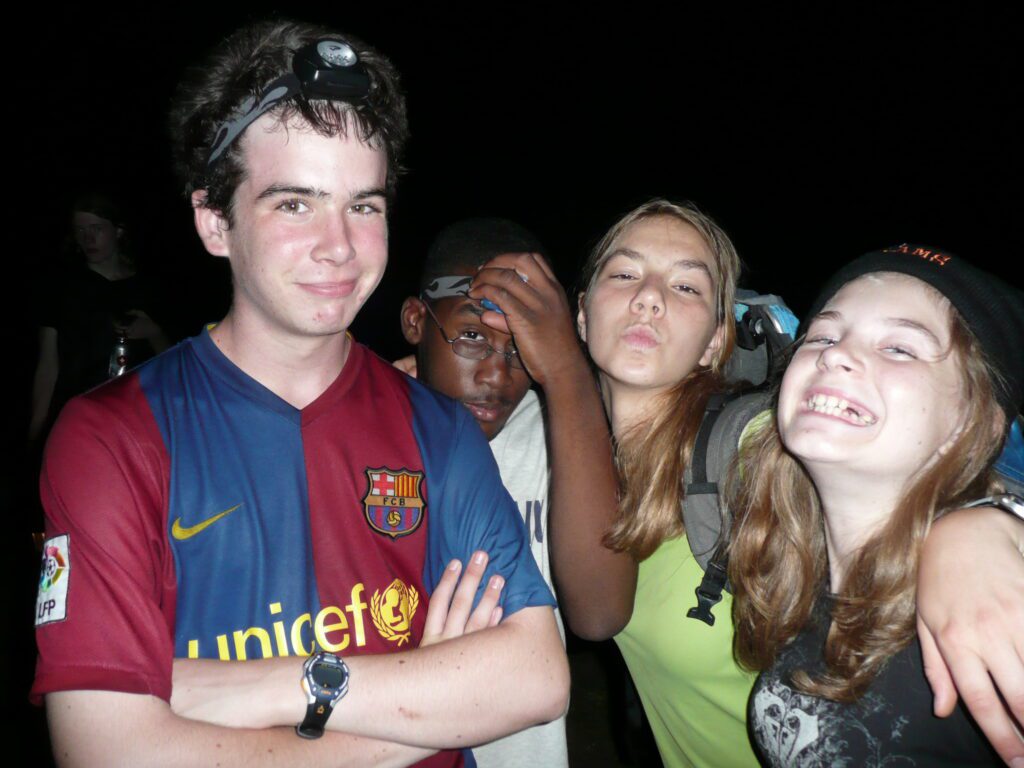 ♦ 10:30 PM – Good Night Traveling Players!
Snuggle into your bunk and get lots of sleep for tomorrow's theatrical adventures!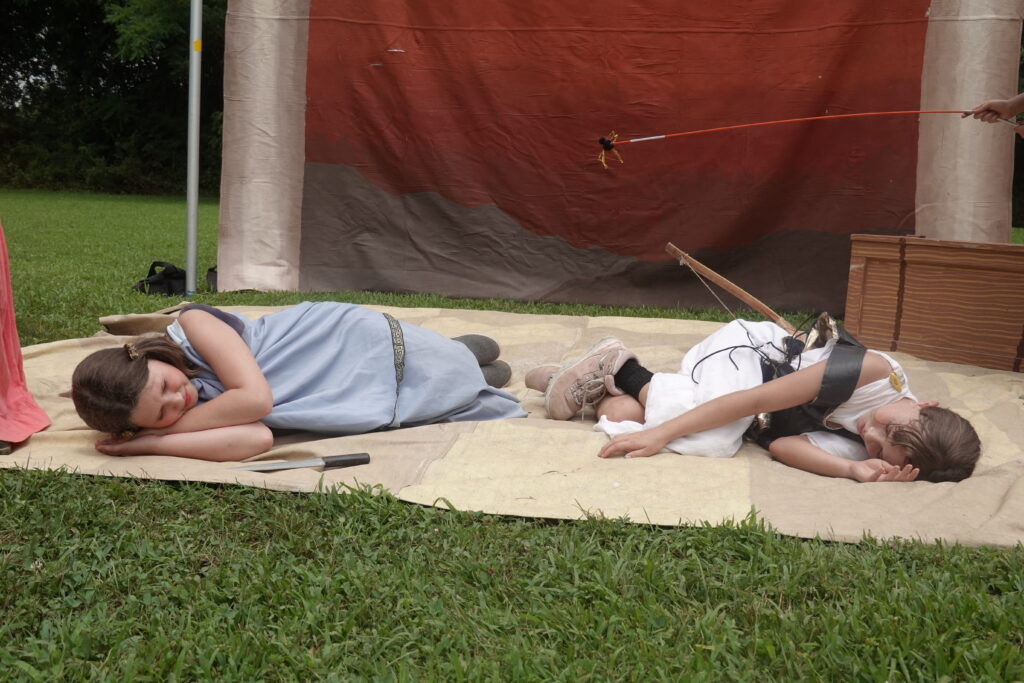 ♦ Saturdays & Sundays
Weekends at camp are little bit different than a typical day. They are more relaxed with more time for hanging out with friends!
Sleep-in til 11 am! Early riser? Staff will be up with you so you can start your day
Field Trips! Ziplining, River Hikes, & more!
Camp-wide activities such as Camp Prom, Open Mics, & Scavenger Hunts.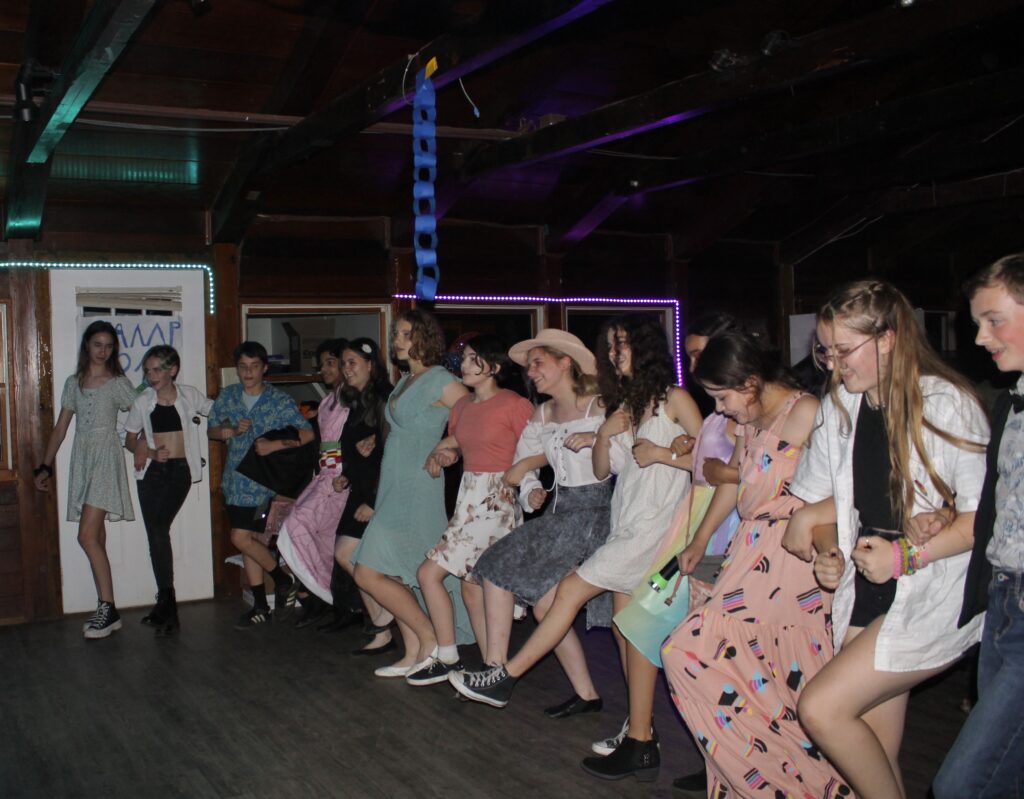 Which Ensemble is right for me?
We offer a continuum of acting training for students in grades 2-12. Click on your current grade (2022-23 school year) to see your options.