2022 Info Below
Information for 2023 will be coming in December!
Harness the popular role-playing game D&D to form a new kind of ensemble: the Adventuring Improv Party!  Instead of retelling an already-existing story, we customize each adventure for maximum creativity and theatrical challenge! 
Actors will create bold characters, overcome obstacles, and make strategic and innovative choices on the spot as they use long-form improvisation as a storytelling tool. 
Each class will feed into the next, in an ongoing original story that encourages actors to work together both as characters and as collaborators designing an expansive story — their own epic adventure!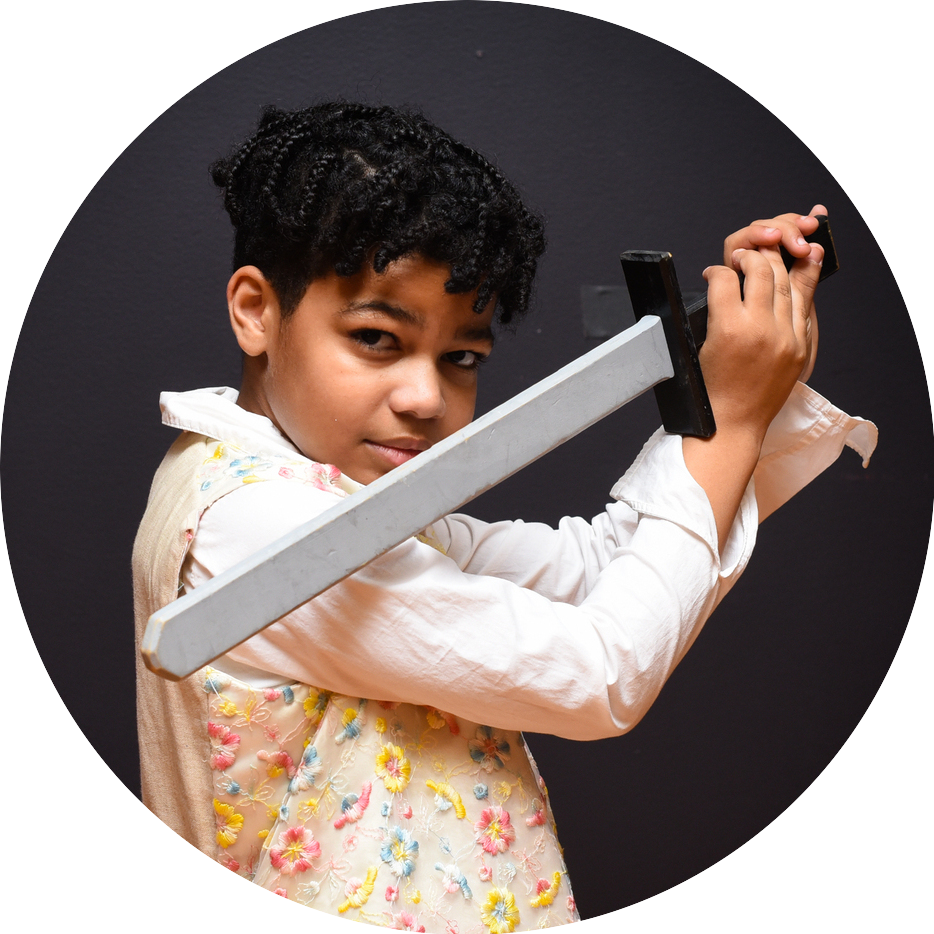 She connected with friends and learned confidence, creativity, and collaboration.

-Parent
Times: Sunday evenings! 7:00 – 9:00 pm
Dates: January 15 – March 19
Location: Virtual – via Zoom!
Tuition: $350 ($375 after the Early Bird Discount flies away January 1 at midnight)
Tuition Notes:
If it's your first D&D Improv class, you get 6 purple dice in a hand-crafted pouch, mailed directly to your house!
Narrator: Jeffrey Robb, BA; Marian Woodington
Class Size: 6 adventurers (if we get more than 1 group, they will run parallel, but compete and interact with each other at times!)
What's a Pod? To fight the social isolation kids are feeling right now, some parents are choosing to "take camp" with another family. Both kids would be at one house with their laptops and headphones, either inside or outside. During breaks, they could kick a soccer ball, eat brownies, walk the dog, or help each other memorize lines. They could be at the same house all the time, alternate houses, or only Pod certain days of the week. We're calling these extended families "Pods!"
Form a Pod! If you're interested, just let us know (campdirector@travelingplayers.org) and we'll connect you to another family who is similarly interested. Then you can discover if you are both comfortable with the level of exposure in relation to coronavirus, if you live close to each other, and other logistics. We recommend keeping your Pod tight and consistent, and taking appropriate precautions as outlined by the CDC.
Separate Studios: Already have two or more campers in your home? Congrats! You already have a Pod! If the campers are in different ensembles, then they should each have a Studio of their own (separate rooms, trading off with one person working inside and the other outside). If campers are in the same ensemble, than they can work in the same room but each camper should wear wireless headphones to avoid feedback while still allowing the campers freedom of movement.
I have learned that I am more creative and have more of an imagination than I thought!

— Student