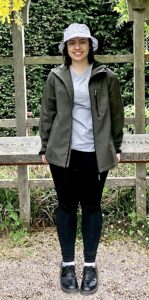 Sariah Roberts (she/her) is so excited to be working with Traveling Players this summer as head of the scene shop. Sariah earned her BA in Theatre Arts Studies with an emphasis in scenic design from Brigham Young University and is preparing for her MFA at the Johnny Carson School of Theatre and Film in the fall.
While at BYU Sariah was able to work in both the scene shop and the prop shop and act as lead painter on many of the main stage productions. She worked on 5 main stage productions as either stage manager and scenic designer such as North Star and Godspell. Sariah has also worked on 12 different student directed projects including her own that she directed: A Chorus Line.
When Sariah is not involved in theatre she loves reading, playing and watching DnD, making earrings, kayaking, and learning about art and other new things.
Languages other than English:  Dutch