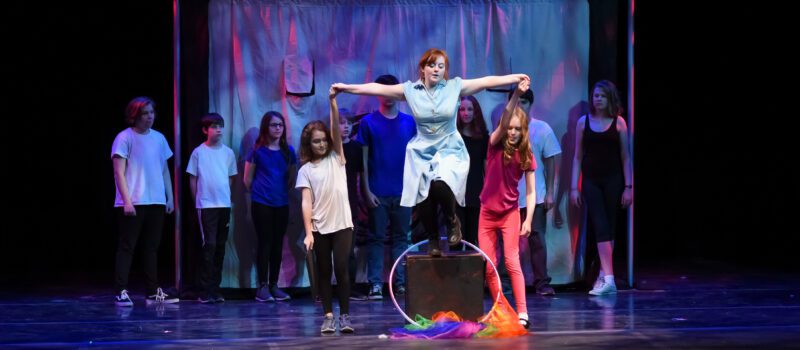 Perform in Alice in Wonderland!  This winter-spring performance class mounts a professionally directed and designed show with elementary and middle school actors.  This class is for experienced young performers as well as eager, dedicated students new to acting.  Culminates in 3 public performances in Tysons Corner Center!
LIMITED AVAILABILITY: Alice in Wonderland is limited to 13 performers. We recommend registering for the earliest audition that you're available for.
AUDITIONS
February 4, 10:00 am — 12:00 pm

Allows you to claim the Early Bird Discount!

February 18, 10:00 am — 12:00 pm
REHEARSAL & PERFORMANCE
Hatters (4th – 7th grade): Saturdays and Sundays, February 25 – May 7
Hares (4th – 5th grade): Saturdays, February 25 – May 7
Hares
Current 4th – 5th graders
For the student just getting to know theatre, or who can't commit the whole weekend, this option allows young actors to participate without committing to months of full-weekend rehearsals.
You won't get one of the leads, since you won't be at all the rehearsals, but Traveling Players' emphasis on ensemble means that you'll be a fully-integrated member of the cast with lots to do. 
Hatters
Current 4th – 7th graders
These dedicated performers rehearse Saturdays & Sundays — tackling the bulk of the storytelling and larger roles in the play.
Students will learn acting techniques, physical theatre, and technical theatre as they make the magic of this play happen.  This class is ideal for experienced actors, as well as eager and committed students new to acting.
Students who have been at Traveling Players before know the power of a strong and well-balanced ensemble. But how do you create a cohesive and effective ensemble?  You need a mix of experiences and backgrounds – students of different ages, genders, and leadership experience — all of whom are eager to support and challenge each other to do their best work.
Our Swing Year students are eligible for both the Hares and the Hatters. 
Everyone will still audition – we will ask your preference when you register. We will take your preference into consideration when deciding group assignments, but will place you in the group that we feel is most appropriate for your growth as a performer.  Please do not be discouraged if you are placed in a different group than your preference. It is likely because we think you will receive a better challenge in the other group. 
The Play
The Audition
The Training
The Safety
Rates & Details
The Play
Traveling Players presents Alice in Wonderland! In this imaginative adaptation, a group of young actors are looking for the lead of their next play, which happens to be Alice in Wonderland. Luckily, they find a girl named Alice backstage! Follow this group of intrepid thespians as they lead Alice down the rabbit hole and through an unusual place called "Wonderland" where Alice will encounter Lewis Carroll's most iconic storybook characters: White Rabbit, Mad Hatter, Queen of Hearts, & one crazy cook!
Our rehearsals will include text analysis, acting exercises, movement workshops and improvisational games that explore the world of the play. 
The Audition
The Training
The Safety
Rates & Details
In addition to learning about acting craft, our daughter has developed a lot of confidence getting in front of others, and made some great friends!

— Parent