adapted by William Glennon
Tickets: $15 | Ages 6+ | 45 min (no intermission)
Buy Your Tickets
Traveling Players presents Alice in Wonderland! In this imaginative adaptation, a group of young actors are looking for the lead of their next play, which happens to be Alice in Wonderland. Luckily, they find a girl named Alice backstage! Follow this group of intrepid thespians as they lead Alice down the rabbit hole and through an unusual place called "Wonderland" where Alice will encounter Lewis Carroll's most iconic storybook characters: White Rabbit, Mad Hatter, Queen of Hearts, & one crazy cook!
Performance Dates:
May 6 at 3 pm
May 6 at 8 pm
May 7 at 6 pm
All performances will take place in our Studio in Tysons Corner Center.
Please Note:
Masks will be required for all audience members.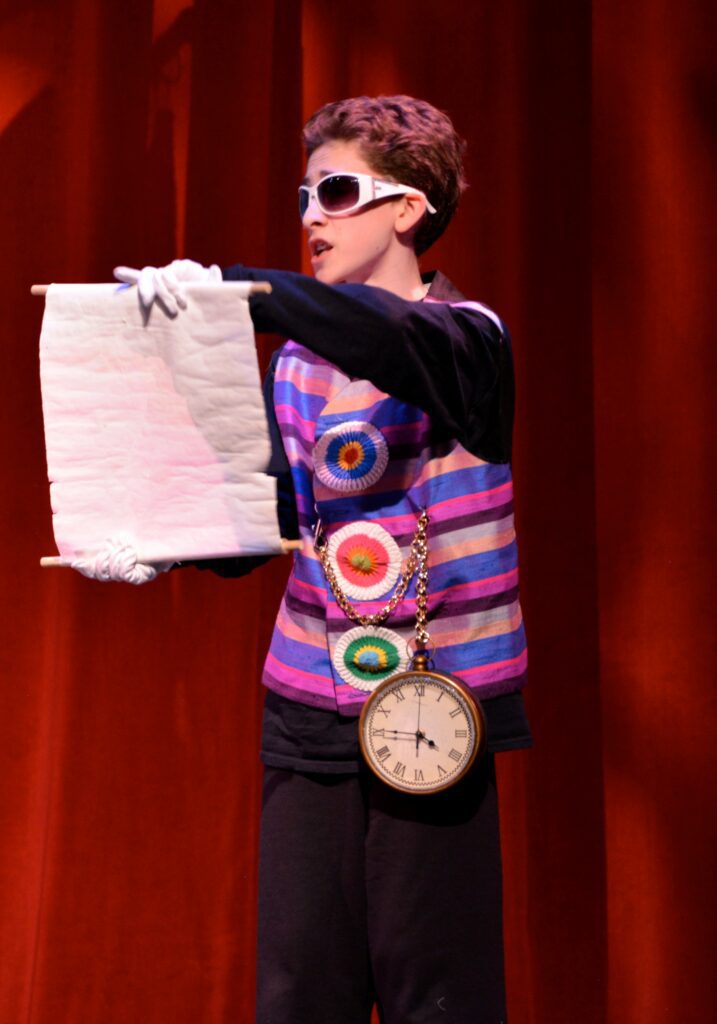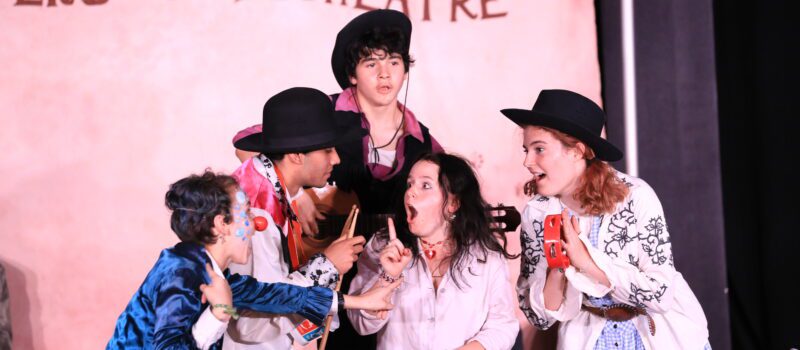 Join us all summer long in the Studio and on the Plaza at Tysons Corner Center!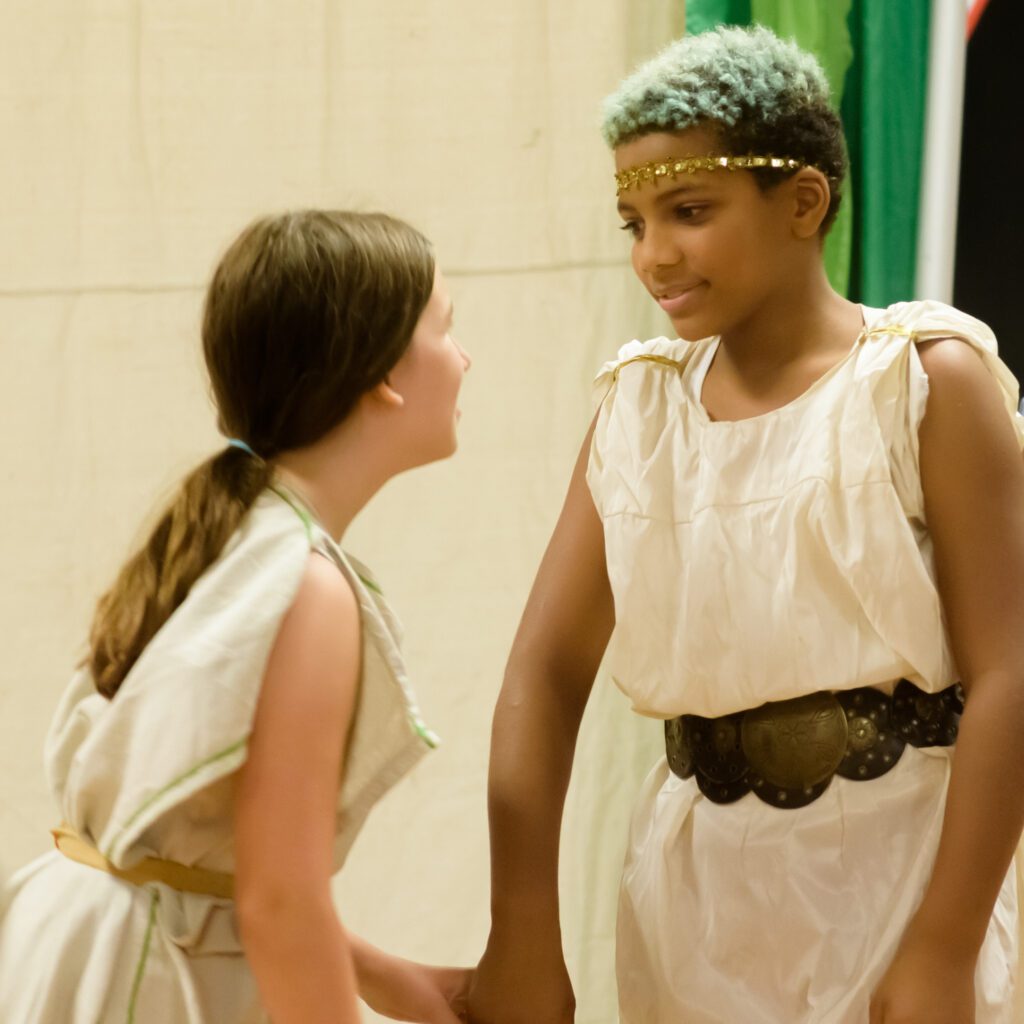 Cupid & Psyche
By Judith Walsh White
July 7 & 28 in Traveling Players Studio
11 am | Ages 6+ | 30 min


Outraged by the beauty of Psyche, a mere mortal, Aphrodite dispatches her son, Bad Boy Cupid, to trick Psyche into falling in love with a monster. But when Cupid arrives with arrows in his bow, he's stopped in his tracks. Why? Could the mischievous Cupid have been struck by his own arrow?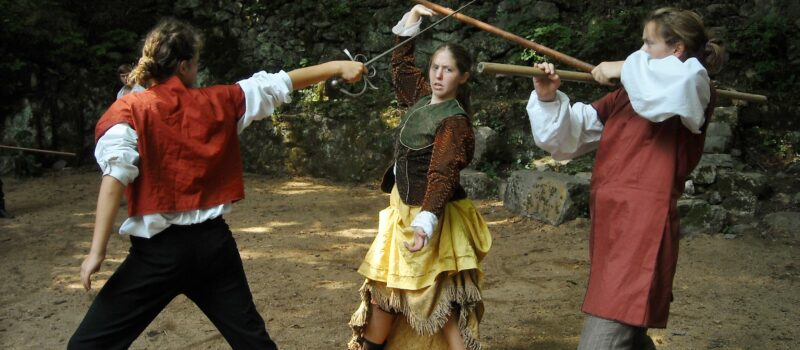 Romeo & Juliet
by William Shakespeare
Touring July 27 – August 2
Ages 10 + | 2 hours, plus 15 min intermission
Brawls are breaking out in the streets of Verona. The feud between the Capulets and Montagues is at a boiling point, and the Prince himself has stepped in to keep the peace. So when Romeo (a Montague) and Juliet (a Capulet) suddenly fall in love, the world is against them from the start.
The famously star-crossed lovers struggle against domineering parents, the laws of church and state, and even their own affections in Shakespeare's breathless tale of a love that transformed the city of Verona.
Tour Schedule: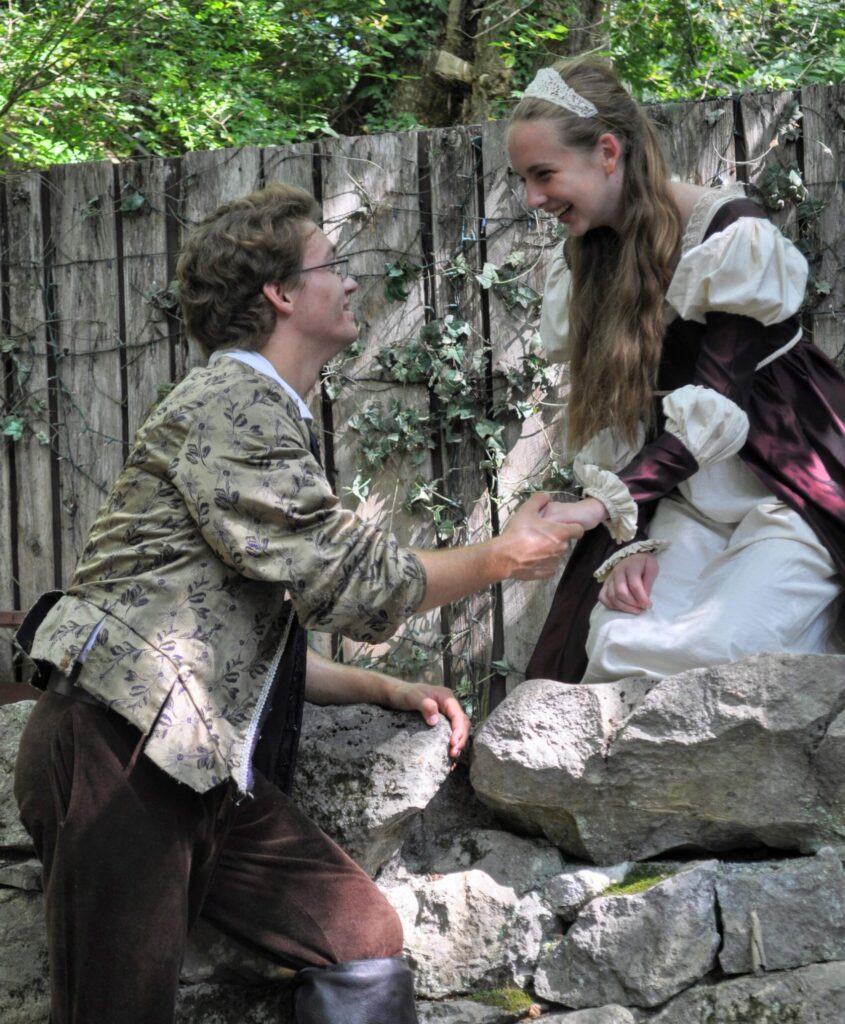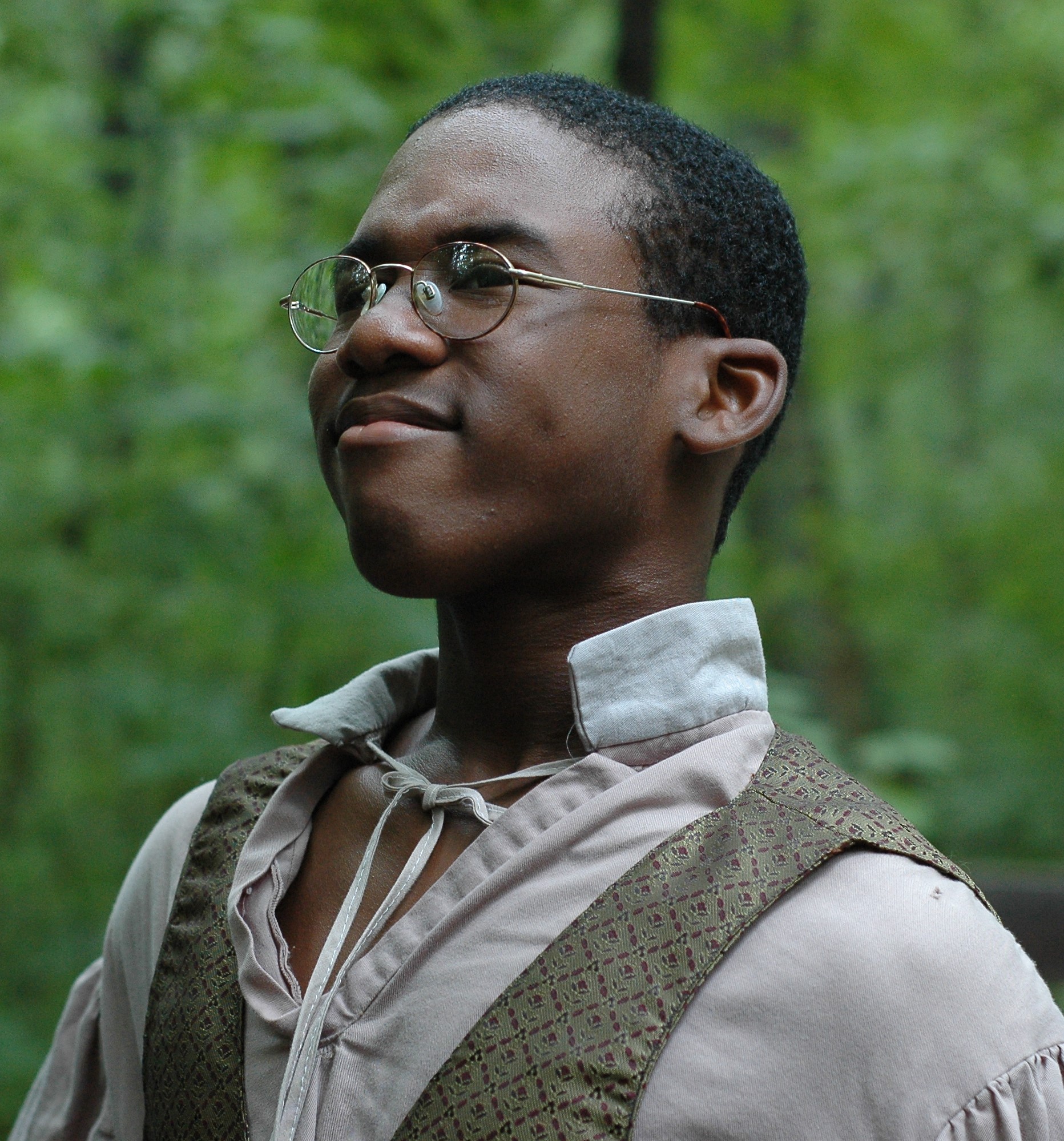 Miser
by Moliere
4 pm | Ages 6+ | 45 min
Old Man Harpagon loves money more than anything: more than his reputation, more than his friends, even more than his children. Definitely more than his children. So, when his children decide that they need to get their hands on some of his beloved cash, it can only lead to one thing: comedy.  We know that true love conquers all. But can it conquer money?
Cluttering up Harpgon's household are righteous children, a hot-headed chef, a spiteful valet, and a cunning matchmaker.
Green Bird
by Carlo Gozzi
5 pm | Ages 6 + | 45 min
Twins Barbarina and Renzo may be orphans who have just lost the only home they've ever known, but they know good fortune is due to come their way at any moment.  And it does – in the forms of a magical talking statue and a mansion that appears from thin air! For the first time in their lives, they are surrounded by unimaginable wealth, and by the seductive power that comes with it.
Meanwhile, King Tartaglia has returned from 18 years of war to find his kingdom falling to pieces. His evil stepmother banished his wife the queen, and his twin children are missing! 
Can Tartaglia save his kingdom? Will the family be reunited? And what's up with the little Green Bird that keeps flitting about?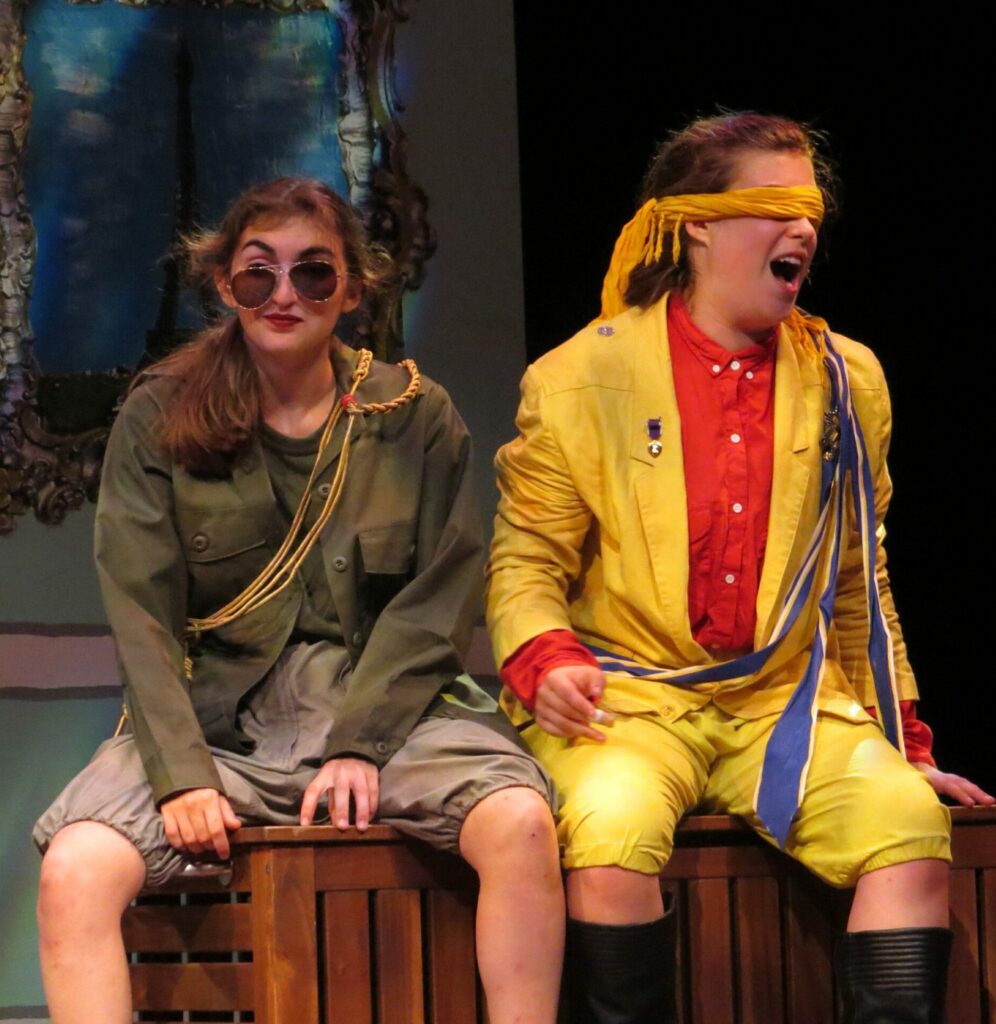 Henry VI pt. 3
by William Shakespeare
7 pm | Ages 10+ | 75 min
York and his sons believe the crown has been taken from them. They've built a faction of warriors to remove King Henry VI from his throne. But Henry and his kin won't go down without a fight. Shakespeare's war-torn history explores the lengths people will go to establish their ideal country. Sides will change, appeals to other kingdoms will be made, and blood will spill. Populating the battlefield are some of Shakespeare's most famous characters: the valiant crooked-backed prodigy (Richard III), the she-wolf of France (Queen Margaret), and the Shepherd King (Henry VI). Our England is inspired by the flower power movement of the late 60s, pushing for peace and love, and soundtracked by, you guessed it: The Beatles.
Raining? Performances scheduled for the Plaza will move indoors to our Studio. Capacity is strictly limited, so buy Rain Tickets if you want to guarantee your chance to see the show during inclement weather. Campers get 2 comps each. Limited availability; tickets may not available at the door.
For all performances in the Studio:
Required: Masks while in the Studio. (Acceptable masks: medical, N95 or KN95; cloth masks can be worn on top of these, but not instead of)
Exceptions: Our performances are not recommended for children under the age of 6.
Tickets will be required, as capacity in the Studio is strictly limited.
Thank you for your understanding and adherence to our policies.  Our Studio is small, and our performers and audience members are treasured members of our community.  We want to keep everyone safe.
Join us for
the Original March Madness:

A Dionysian Festival of 3 Greek Plays!
The performances are now sold out. If you like to come 30 minutes early, you can be added to the rush list and possibly be seated at the show's start time.
Thank you.
Tickets will be held at Will Call.
Our audience capacity is limited due to COVID restrictions, so we advise reserving your tickets as soon as possible!
Interested in group sales? Email programassistant@travelingplayers.org for rates!
Festival Schedule:
Performance Dates – March 12, 13, 19, 20
11 am – Ariadne's Thread:
The Adventures of Theseus and the Minotaur
recommended for ages 6 and up; Run Time: 35 minutes
In this modern twist on the myth, Ariadne feels like she hasn't lived up to her title of "Princess" until she manages to protect the life of her half-brother, the Minotaur. Follow Theseus on his quest to find his family — an adventure that is filled with danger, humor, and a heartwarming reaffirmation of the value of family.
3 pm – The Odyssey
recommended for ages 8 and up; Run Time: 45 minutes
Set sail with Odysseus as he fights cyclops, sirens and Gods on his journey home to Ithaca. In an adaptation that focuses on both Penelope's long wait and Odysseus' ten-year voyage at sea, experience Homer's epic tale of adventure, fate, and dignity in the face of unyielding obstacles.
7:30 pm – Hecuba
recommended for ages 12 and up; Run Time: 75 minutes
Betrayals, sacrifices, ghosts — a heap of bodies litter this unforgettable tale of the day after the Trojan War ends. In Euripides' rarely-produced revenge tragedy, Queen Hecuba and the women of Troy have survived, but the impact of war lingers. Translated by the impeccable Kenneth McLeish.
*There will be a talk back with Peace Activist Barbara Wein after the March 12 performance of Hecuba
Required: Maximum vaccination level possible — fully immunized and boosted, if that is an option for you.  You must show proof of vaccination card in advance of or upon arrival.
Required: Masks while in the Studio. (Acceptable masks: medical, N95 or KN95; cloth masks can be worn on top of these, but not instead of)
Exceptions: None.  Our performances are not recommended for children under the age of 5.
Please note: Our Studio will be filled to 60% capacity.  We will seat family/bubbles together, socially distancing between family bubbles. Our performers will be unmasked while on stage and masked while backstage.
Thank you for your understanding and adherence to our policies.  Our Studio is small, and our performers and audience members are treasured members of our community.  We want to keep everyone safe.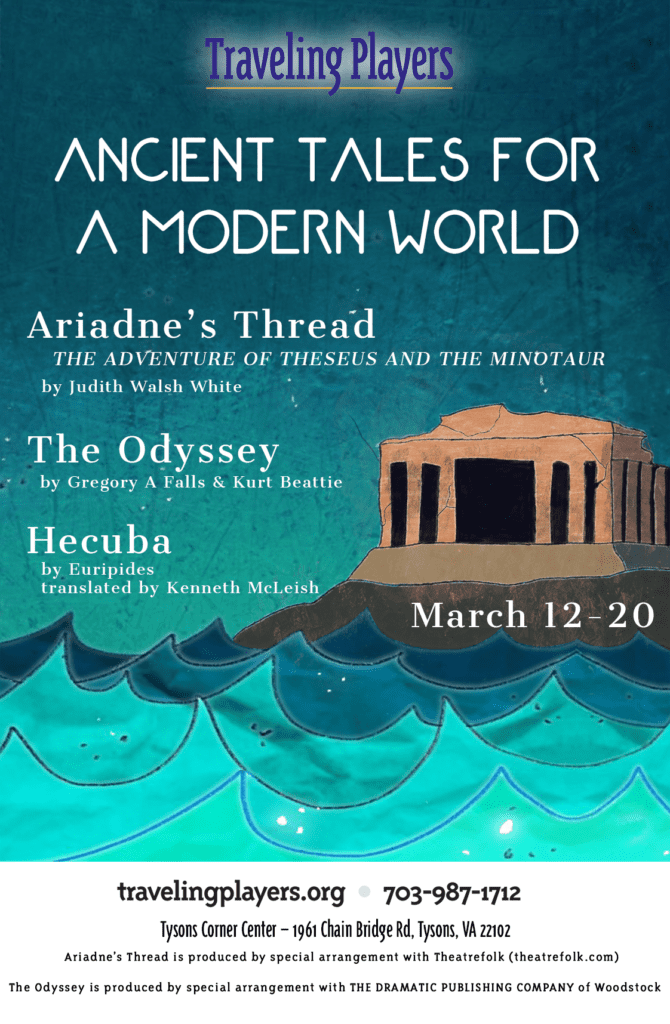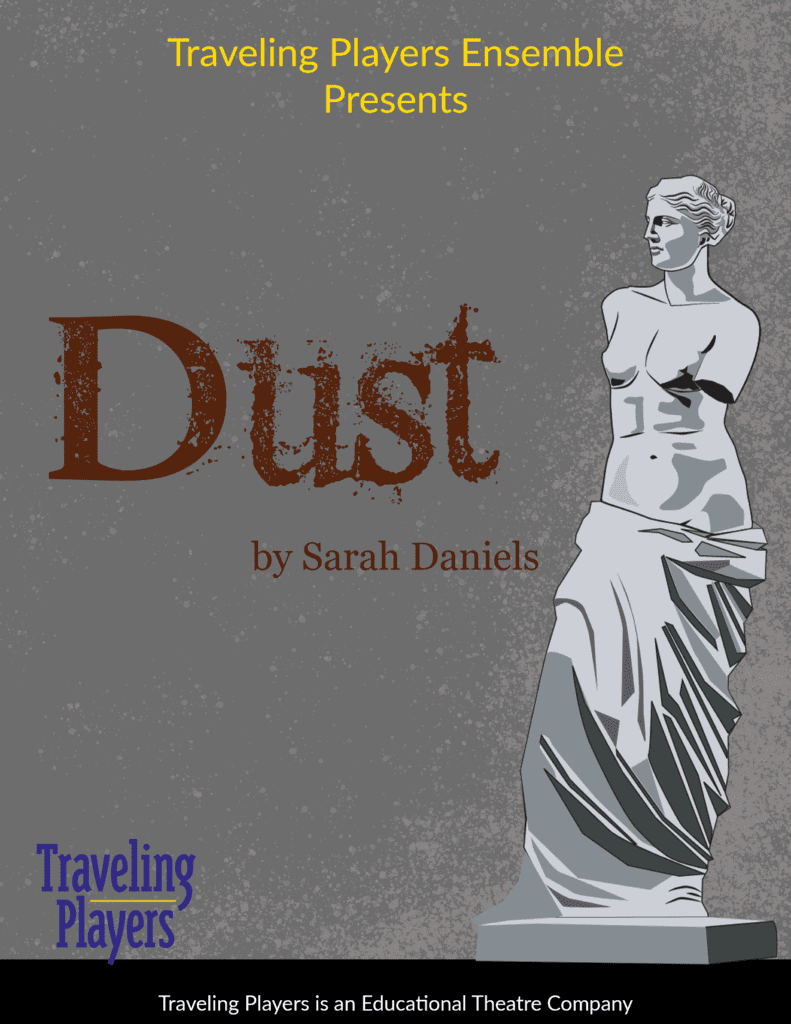 DusT
In Dust by Sarah Daniels, a high school drama field trip to London goes awry when they discover an unclaimed bag on the underground.  Everyone evacuates the subway train, except for one girl – the girl being taunted by the bullies.  She is let off the train at an ancient tunnel that has no electricity to walk her way to safety with just a flashlight.
Big explosion – flashback to… Roman Londinium!  It's now the 1st century, when London was being occupied by Rome.  The play becomes an Alice-down-the-rabbit-hole adventure of our poor outcast student encountering major heroes (Queen Boudicca!) and everyday folks around the Londinium Amphitheatre – gladiators, gladiator wannabes, prisoners, guards, lion tamers, food vendors, make-up sellers, and fortune readers. Written by one of England's most celebrated female playwrights, Dust brings present day teens into collision with the past, clarifying what courage looks like.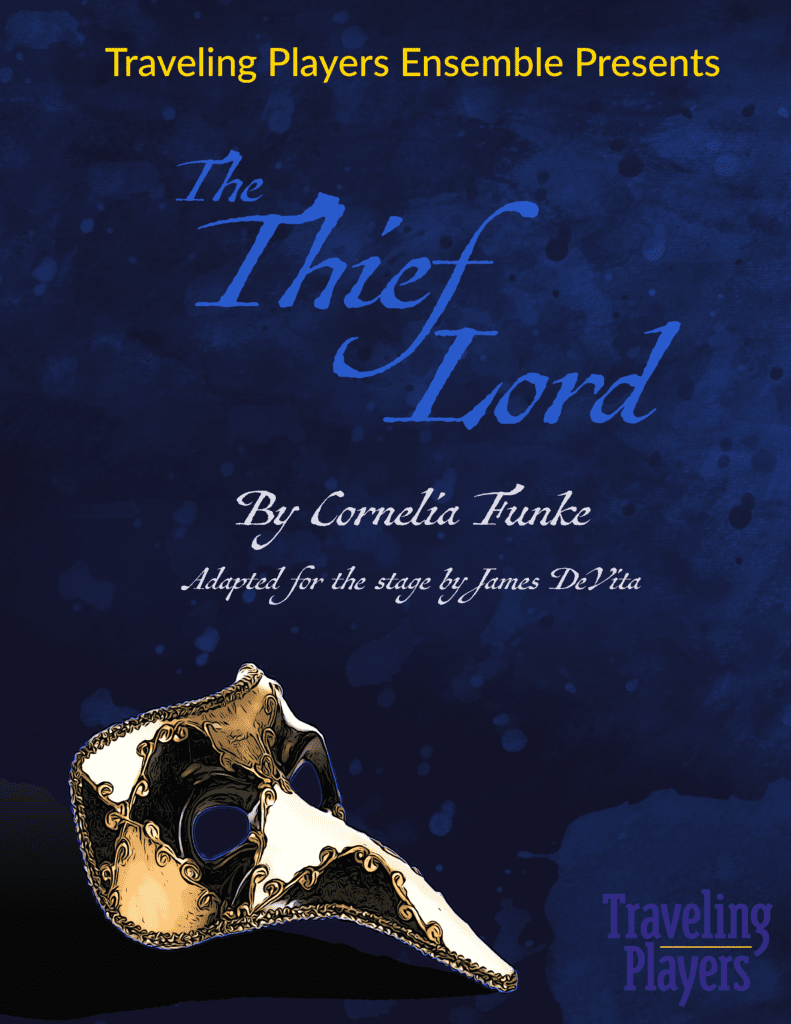 The Thief Lord
Two orphaned brothers have run away to Venice, where crumbling canals and misty alleyways shelter a secret community of street urchins. The leader of this motley crew of lost children is a clever, charming boy who calls himself the Thief Lord. And he has a dark secret. Something from a forgotten past that poses a threat to the boys' freedom: a treasure so enchanted, it can spin time. Adapted from Cornielia Funke's New York Times bestselling novel, The Thief Lord is a dazzling adventure about growing up and the families we create for ourselves.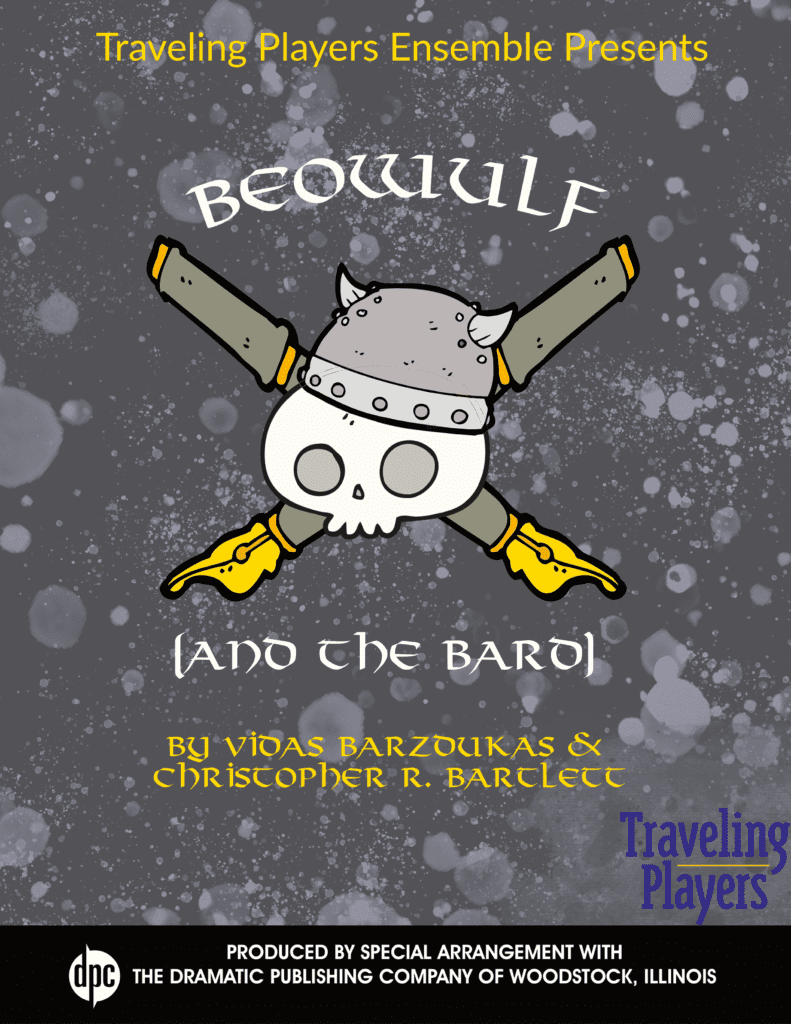 Beowulf (and the Bard)
Beowulf (and the Bard) is a fun, frenetic and freewheeling farce that updates the Old English poem about the warrior Beowulf, who must rescue the mead hall from a hideous ogre (and his even more hideous mother).  Told through the eyes of the epic's writer—a character known simply as "the bard"—the comedy's events unfold much differently than the familiar story passed down through the ages.  In reality, Beowulf is an out-of-shape prince hoping to fulfill the heroic code, while the bard is a desperate poet struggling with a nasty case of writer's block.  This retelling also introduces a new female character: the bloodthirsty warrior princess Gunborg, whose quest to reach her heroic destiny is ignored by her overprotective father, the king.  Beowulf (and the Bard) is a comedy about friendship, duty and what it means to be a hero.