Shakespeare had Queen Elizabeth, Moliere had Louis XIV, And We have You!
I grew up at Traveling Players.  I am still a Traveling Player. It remains central to my identity.

– Alum
When Traveling Players was founded, we could never have imagined what it would grow into 20 years later. We never could have predicted that friendships made over those summers would remain some of our students' strongest connections, through college and beyond, and that we would gleefully retell camp stories a decade later. Together we've created memories that will last a lifetime.
We hoped to create a place to challenge young performers, nurture their talent, surround them with a supportive community, and infuse them with the wonder of our natural environment. And a place where theatre kids knew the real meaning of the word "star." On a Traveling Players' stage is an ensemble of actors – each a shining star in their own way – working hard, playing together, building trust, and telling powerful stories.
The twin challenge of forming an ensemble and creating excellent theatre brings out the best in our students and staff. It creates transformational "aha" moments that are inevitably the topics of their college essays and become a core part of their identity.
Traveling Players alumni will thrive in this new world of ours. Their path may not be linear, but they have the skills, sense of humor, and resourcefulness to make their own way, whatever that may be. But most of all, they know how to find friendship, adventure, and joy.
None of this would have been possible without you – our loyal community and donors.
Now you can help Traveling Players to survive, too, in this new world of ours – to work with more students and help them find their voice.
We have plans! Over this year, our 20th anniversary, we will continue to roll out new programs that nurture our current student population. And we are excited to introduce new opportunities and events that will support our alumni community (networking events, coffeehouses, and maybe even that alumni production?). 
Help us by donating today! 
Honor your past and nourish our future –  Together we can make a difference. 
THANK YOU! 
All donations are tax deductible.
NEW: In 2023 New Donors are DOUBLED! The board will match donations from all new donors up to $20,000 – we hope to add 200 more donors this year.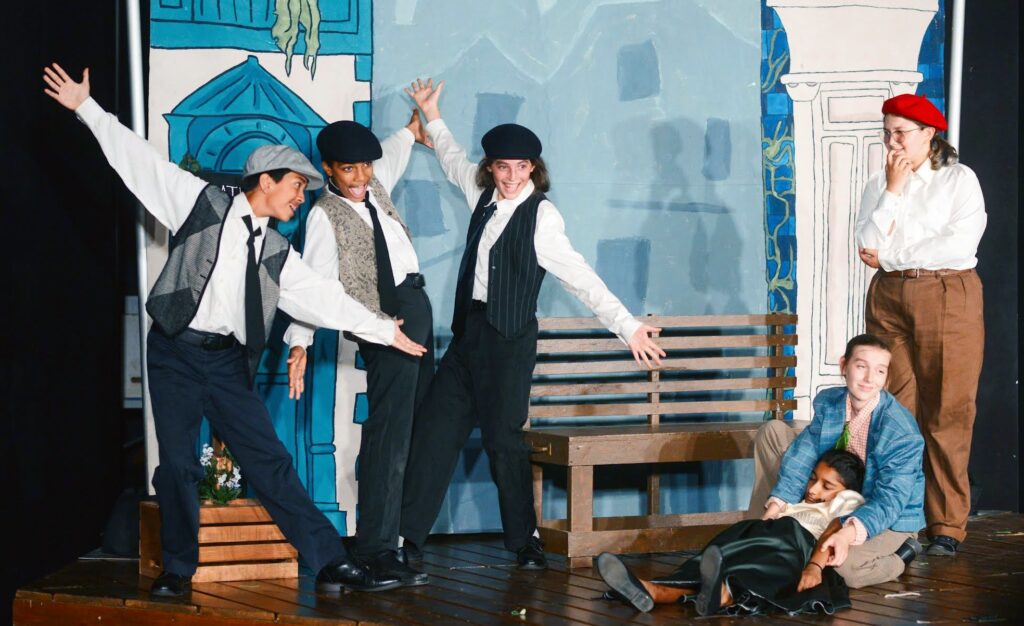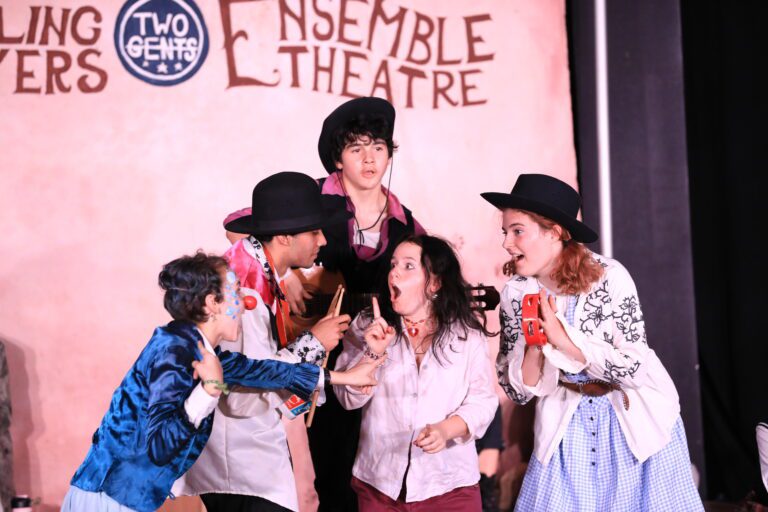 Traveling Players Ensemble complies with the Association of Fundraising Professionals (AFP) Donor Bill of Rights.
A Round of Applause for our 2021 Donors!
ArtsFairfax ♥
Federal/SBA Covid Relief Forgiveness
Google Adwords ♦∞
Macerich/Tysons Corner Center ∞
INOVA Health Systems ∞
National Endowment for the Arts
The Nora Roberts Foundation ♦
Virginia Commission for the Arts ♥
McLean Community Foundation
Anonymous ♦
Charlie Brown & Molly Moses
Dimick Foundation ♥
Margie Sullivan ♥
The Tucker Family
Jamie Abrams & Jason Pletcher ☺
Virginia & Jed Barry ♦☺
Sharon Callaway ♥
Robin & Bob Carroll ♦☺
Anne & William Gross
Gilbert Leigh ♦
Carolyn Mollen ♥☺
MTR/Dave & Robin Blouse
James Rivera ♦
Andrew & Lynn Shotwell ♦
The Sparta-Hattaway Family ♥
Judith & Christian White ♥☺
The Carmel-Jessup Family ♥☺
Jeanne Harrison ♥☺
Susan Jampoler
Leyla & Gordon Kenny
Allison May & Ky Tran-Trong
Marie Milnes-Vasquez & Tony Johnstone ♥
Colleen Robertson
Kristin & Stan Schloemer ♦
Joel & Felicia Vargas ♥
Anne & Jon Ashwell ♥
Mary Au & Tony Greco
Barings LLC #
Barbara & Rooney deButts
Amber & Caitlin Dungan
Jennifer & Eric Engstrom ♦
Jenna Fournel
Molly Gimmel ♦☺
Lisa Grossman & David Weber
Amanda Maisels
Jennifer McLaughlin
John Mimikakis
Catrin Morris & Chris Miller
The Pearce Family
France Ponsat ∞
Gregory & Margo Pryzby ♦∞
Amy Regas & Brad Conver ♦
Zach Sandberg ☺
Katherine Touart ♦
Mark & Pat Whittle ♦☺
Anita Albertson ♦
AmazonSmile Foundation ♦
Anonymous
Anonymous ♥
Steven Babin & Pamela Nee ♦
Mitchell Bailin
Sonja Carlborg & David Means ♥
Kathlyn Degnan
Jessica & David Dzara
Nancy Eastlake
The Estee Lauder Companies #
Filip & Barbara Feller
Natalie & Ronnie Fisher
Heidi Geier ♦
Joanne Hurt ♥
Barbara & Henry Jasny ♥
Ryan Kantor ∞
Richard Koretz & Judith Bauer ♥
Aleta Margolis ♥
Christine & Allen McCarley ∞
Karen & Mark Morey ♦
Virginia Roll
Michelle Shefter
Julia Smith & Brian Frickert
Susan & John Sturc ♥☺
Suzanne Tetreault
Amy Weinhouse
Steve Wenick & Karen Block
Jacqui & David Winters
Elizabeth & William Wakefield
Booz Allen #
Suzan Al-Mutawa & Oliver John
Anonymous
Vivian & Payton Bailey
Louis & Eva Caldera ♦
Chewey Delaplaine ☺
Laura DeWitt
Julie & David Elfin ☺
Julia Fischer
Kimberly Fondren & James Ward
Susan & Todd Garner
Rebecca & Ed Goldstein
Margaret & Kenneth Hawkins
Hilary Henry
Mary Gibbs & Jeffrey Horner ♥
Melissa House
Sarah Jebian
Paula Kahn
Eileen Mandell
Debra Marino
Carol-Ann & Kevin Martin
Kim & Chuck Miller
Shahima Nazeel
PayPal Giving Fund
Noah Pilchen ☺
Tiffanie & Troy Pope
Laura Rose
Grigore Scarlatoiu
Jennifer & Ron Sinek ♦
Lynda Singletary
Sharon Sliwa ♦☺
Askia Suruma
Kathleen Tregoning
Lisa Vandeveer
Elizabeth Vilardo & Family ♦
Dannielle Wade & Eric Tischler ♦
Jennifer Wohlander
Martha Young
Michael Yuzefovich
♥   10+ years of donations
♦   5-9 years of donations
☺   Camper, Staff, Alum, Board
#   Matching
∞   In-kind
Give Gratitude to TPE's compassionate, talented, dedicated staff!
Our staff is the heart of Traveling Players.  They can bring a smile to an anxious face, bolster confidence in student, and challenge another who wants to climb higher.  Some Traveling Players staffers remain in your child's life forever.  Their impact will be remembered and felt – it might have been life-changing.

Most of our staff are alums, hoping to have a similar impact on a child's life.  We could never pay them enough.  The math for compensating those who transform lives just doesn't add up.  Most artists are gig workers and were especially hard hit.

At Traveling Players, we have continued to pay our staff, furloughing no one.  Our staff responded by taking on additional duties, and volunteering some hours each pay period.  In this liminal time of virtual learning, our staff adapted theatre curriculum to online, bringing joy, creativity and artistic growth back to our students' lives over Spring Break.  We are hosting Campfire Parties and virtual Field Trips — meaningful community experiences — to reconnect.

These artist/educators are working tirelessly on Traveling Players innovative programming for summer 2020 (which is truly happening! — more on that later this week).  Their resourcefulness and perseverance keep us inspired, as does the energy we receive back from you, our campers, parents, alums and donors. Thank you all!

We need your help to continue paying our amazing staff and offering exceptional programs. Like so many other businesses, we are facing daunting financial challenges as a result of COVID-19. 
We have already lost over $55,000 from foundations that typically support us but are redirecting their resources to the front lines of the pandemic.  We know that operating this summer will be expensive, as we will invest in additional staff, cleaning supplies and new logistical protocols.  And then there are the scholarship applications, which have increased.  We will not be able to do this alone.  We will need help. 
Please help ensure Traveling Players programs continue during this crisis, when restrictions are lifted, and afterwards!
If you are in a position to give, please donate today!
All proceeds will be directed to supporting staff.
No donation is too small or big.
THANK YOU!