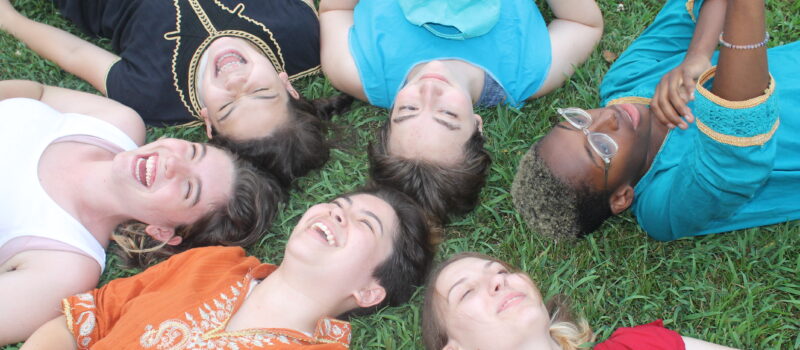 We say that Traveling Players is based on the principles of ensemble theatre, but what does that mean?
The national organization, The Network of Ensemble Theatres defines an ensemble as "a group of individuals dedicated to collaborative creation, committed to working together consistently over years to develop a distinctive body of work and practices."
At its heart, an ensemble prioritizes the success of the whole over the success of the individual. This is in stark contrast to the way theatre often works: an ensemble struggles against the tendency for the "most talented" actors getting the "best parts."  Ensemble work challenges both of those ideas by valuing the contributions of every member of the cast and crew.
We encourage teens to be responsible to the larger group, rather than thinking of their own interests first.  What this means is that everyone in the group gets what they need.  If everyone's focus is in toward the group, they can help, support, encourage, and challenge each other.  That way, when problems arise – as they always do – there is enough trust, goodwill, and confidence for the group to sustain itself.
Ensemble practice fosters a collective ownership of the art, believing in actors as creative as well as interpretive artists.  Because of its focus on inclusivity and collaboration, all members of an ensemble develop a sense of the whole, and feel supported, trusted, and listened to by the group.  In this kind of environment, performers can take greater risks and experience greater growth, knowing that the ensemble will catch them when they fall.