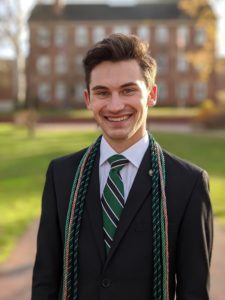 Corey (he/him) is an Ohio native and recent graduate of Ohio University where he received a Bachelor
of Arts Degree in Theatre and Minor in Music. He is currently continuing his education in Theatre at
OU, working towards an MA in Theatre Education and a certificate in Performing Arts Health &
Wellness. He is the former Vice President of OU's Tenor/Bass Choir, The Singing Men of Ohio, and
is a current member of The Marching 110. Corey is a member of the Educational Theatre Association
and the American Alliance for Theatre and Education.

Throughout the year, he works as an Assistant Director at an Appalachian high school where he brings
art and theatre into his small, rural community. Corey enjoys working with the students and loves
getting to teach them about the world and themselves through the art of theatre.