Girl Scouts earning badges
girl scouts school year program

girl scouts school year program

girl scout program

Spend a day with your troop learning about theatre, playing games, dressing up in costumes, and earning badges.
We fit your schedule! Suggest a couple days that you think your troop can get together. We're happy to meet on a weekday when schools are out!
Earn two Junior patches in one day!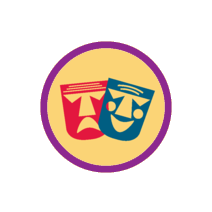 THEATRE (make your own)
Warm up your body, stretch your imagination, & create a scene! This badge is a Traveling Players exclusive!
Playing the Past
Dream up a character and get ready to live history!
Where can you get a Theatre Badge? Only at Traveling Players! The Theatre Badge is a certified Girl Scout make-your-own badge, including the certificate! The make-your-own badge program is now discontinued, so you can't get this badge anywhere else.
The Fun
The Training
The Badges
The Safety
Tuition & Details
The Fun
Spend a creative and fun-filled day with your troop playing theatre games and leave with TWO new badges on your vest!
The day starts with warm ups and theatre games, as you learn about acting and improv. Then, build on those new skills to do acting scenes and design your own characters!
Your troop gets to choose the focus for the day – Spooky Witches or Greek Mythology!
Theatre is all about bonding and team building! Scouts will leave with fun memories and a better appreciation of all members of their troop.
The Training
The Badges
The Safety
Tuition & Details