2022 Info Below
Information for 2023 will be coming in December!
Winter Performances: Dramatists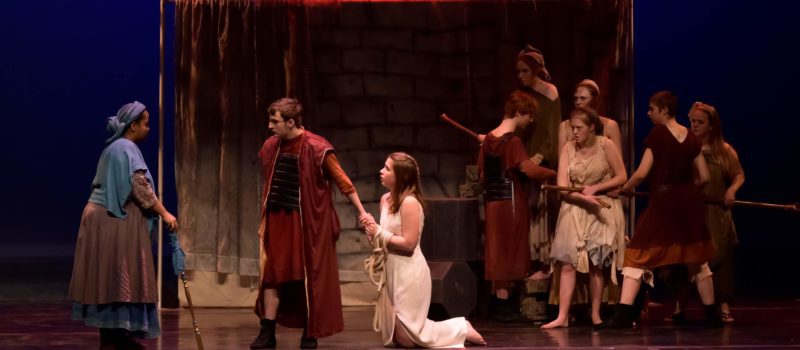 This performance class mounts a play using a tight ensemble of high school actors. The play will be professionally directed and fully produced — with custom-designed costumes, set, props, sound score, and lighting. The show will be performed in our Studio at Tysons Corner Center for your friends and family — as well as the public!
The class is appropriate for experienced actors, as well as for those just being introduced to the classics.
For current 9th – 12th graders.
LIMITED AVAILABILITY: The cast is strictly limited to 12 performers. We recommend registering for the earliest audition that you can attend.
AUDITIONS
December 12, 3:30 – 6:30 pm
January 2, 3:00 – 5:00 pm
January 6, 5:45 – 6:45 pm (ON ZOOM)

Register for either audition by November 21 at midnight to claim the Early Bird Discount!
9th graders: See below — Swing Years
REHEARSAL & PERFORMANCE
Saturdays & Sundays, January 8 — March 20
The Play
Hecuba
By Euripides; Translated by Kenneth McLeish
The Trojan War is over, and Troy is in ruins.  Queen Hecuba is reduced to slavery, obeying the Greek victors, Odysseus and Agamemnon.  Hecuba's only hope is that her two remaining children survive.  But first the Greeks want her daughter Polyxena sacrificed to honor Achilles' grave, and then she discovers her son Polydorus has been treacherously murdered.  Having lost everything and overwhelmed by grief, Hecuba seeks revenge.  Haunted by ghosts and Gods, Hecuba explores the aftermath of war, shifting alliances, and sins committed in the name of "justice."
We'll be using Jeanne's favorite translator of Greek tragedy, Kenneth McLeish, whose language is crisp, vital, warm, and compelling — not your turgid classical poetry, but rather language that sparkles off the page.  "Euripides left his actors a great deal of creative space," explains McLeish.  "He allowed them, so to speak, to fill in the thought between the words — and translations should follow, not reverse, this trend."  The result is language that chronicles interactions of profound honesty, giving our actors the challenge that they desire, while telling stories that transcend the ages.  McLeish's language is just waiting for our actors to breathe life back into it, and Hecuba's story is unforgettable!
The Adventure
The Audition
The Training
The Festival
The Safety
Rates & Details
Students who have been at Traveling Players before know the power of a strong 

and

 well-balanced ensemble. But how do you create a cohesive and effective ensemble?  You need a mix of experiences 

and

 backgrounds – students of different ages, genders, and leadership experience — all of whom are eager to support and challenge each other to do their best work.
Our Swing Year students are eligible to perform in two ensembles, which will offer them different experiences.

 
7th Grade Swings:

you will audition for both the Players and Thespians plays.  We will ask you your preference after the audition.  
9th Grade 

S

wings: please audition only once (either for the Thespians or the Dramatists) –  for the program that you are more interested in

.  

We will take your preference into consideration when deciding ensemble assignments, but will place you in the ensemble that we feel is most appropriate for your growth as a performer.

  
Please do not be discouraged if you are placed in a different ensemble than your preference. It is likely because we think you will receive a better challenge or more leadership opportunities in the other ensemble. 
300 people auditioned. 22 people were cast. My son, who was a Traveling Players student for many years, will make his Muhlenberg Mainstage debut this November in the Greek tragedy 'Agamemnon.'  He is one of only a very few freshmen to be cast in any of the school's Mainstage productions.

– Parent
9th graders have choices at Traveling Players! You can choose to either age up into the older age group, or stay and be a leader in the younger age group – either way you're sure to have a ton of fun!
If you're new to theatre, or if you just finished our Thespian Ensemble, we recommended that you stay in the 6th-9th grade program. Most of your friends from the summer will be here, and you will work with many of the amazing teachers you already know and love.
If you're looking for a new challenge, or if you were a part of the Shakespeare Ensemble, we recommend that you join our 9th-12th grade program.
If you're auditioning for the Winter Performances but don't know which group to choose, please attend the Dramatists audition. During registration, you'll be able to opt in to simultaneous consideration for the Thespians group.
If you have any questions about which program would be perfect for you please call (703-987-1712) or email (campdirector@travelingplayers.org) us and we will be more than happy to help you find the best fit!
Thank you very much for making this COVID-19 summer so special and unforgettable for me. When I talk to friends outside, who have been bored all summer, I realize how lucky I have been. Boredom never entered my life this summer… only fun and new challenges!

— Student