2022 Info Below
Information for 2023 will be coming in December!
Winter Performances: Players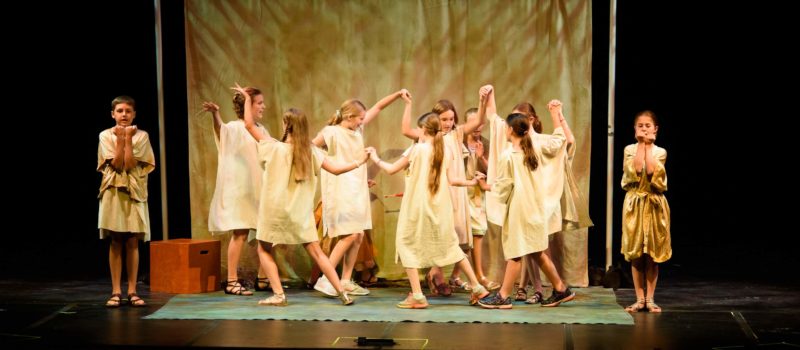 This performance class mounts a play using a tight ensemble of elementary school actors. The play will be professionally directed and fully produced — with custom-designed costumes, set, props, sound score, and lighting. The show will be performed in our Studio at Tysons Corner Center for your friends and family — as well as the public!
This innovative class is for experienced performers as well as less experienced actors who are eager and dedicated.
For current 4th – 7th graders.
LIMITED AVAILABILITY: Cast size is limited to 12 performers. We recommend registering for the first audition you can attend.
AUDITIONS
November 21, 11:00 am – 1:00pm
December 12, 1:00 — 3:00 pm
January 2, 12:30 — 1:30 pm
January 6, 5:00 — 5:45 pm 

Register for either audition by November 21 at midnight to claim the Early Bird Discount!
7th graders: See below — Swing Years
REHEARSAL & PERFORMANCE
Saturdays & Sundays, January 8 — March 20
The Play
The Audition
The Training
The Festival
The Safety
Rates & Details
The Play
ariadne's Thread
The Adventures of Theseus and the Minotaur
By Judith Walsh White
"The thread's on the spool,
You must feel it in the dark, cause there is no light…"
This modern version of the Theseus and the Minotaur myth brings Greek mythology to life!  Theseus is a young man on an adventure.  As he makes his way to Athens to meet his father, he must fight bandits, carnivorous pigs, and travel to the underworld.  He offers himself as tribute to King Minos to rid the murderous Minotaur.  
But the story isn't as simple as it seems.  King Minos' daughter Ariadne is willing to help, but only if Theseus promises not to kill the Minotaur, her half-brother.  Will Theseus get out of the labyrinth alive?  This gripping tale gives us new insight into the meaning of family.  
Commissioned by Traveling Players to develop more challenging scripts for young actors, Judith Walsh White's play was published by Theatrefolk with Traveling Players actors listed as Original Cast.
The Audition
The Training
The Festival
The Safety
Rates & Details
Students who have been at Traveling Players before know the power of a strong 

and

 well-balanced ensemble. But how do you create a cohesive and effective ensemble?  You need a mix of experiences 

and

 backgrounds – students of different ages, genders, and leadership experience — all of whom are eager to support and challenge each other to do their best work.
Our Swing Year students are eligible to perform in two ensembles, which will offer them different experiences.

 
7th Grade Swings:

you will audition for both the Players and Thespians plays.  We will ask you your preference after the audition.  
9th Grade 

S

wings: please audition only once (either for the Thespians or the Dramatists) –  for the program that you are more interested in

.  

We will take your preference into consideration when deciding ensemble assignments, but will place you in the ensemble that we feel is most appropriate for your growth as a performer.

  
Please do not be discouraged if you are placed in a different ensemble than your preference. It is likely because we think you will receive a better challenge or more leadership opportunities in the other ensemble. 
7th graders have choices at Traveling Players! You can choose to either age up into the older age group, or stay and be a leader in the younger age group – either way you're sure to have a ton of fun!
If you're new to theatre, or you just finished the Acting Sampler Week or the Mythology Ensemble, we recommended that you stay in the 4th– 7th grade program. Most of your friends from the summer will be here and you will work with many of the amazing teachers you already know and love.
If you're looking for a new challenge, or if you were a part of the Thespian Ensemble we recommend that you join our 7th-9th grade program.
If you're auditioning for the Winter Performances but don't know which group to choose, please attend the Thespians audition. During registration, you'll be able to opt in to simultaneous consideration for the Players group.
If you have any questions about which program would be perfect for you please call (703-987-1712) or email (campdirector@travelingplayers.org) us and we will be more than happy to help you find the best fit!
As a parent, it has been such a thrill over the years to see all of these positive developments in my daughter and to have found such a unique and innovative program where she has received intensive and constructive theater training in an environment that takes the participants seriously, wants them to improve and strengthen their skills, but also wants them to have fun!

— Parent