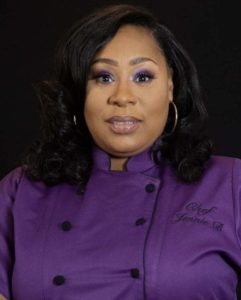 Jennifer Monique Burgess (she/her), better known as Chef JennieB, was born and  raised in Washington, DC, and educated in the DC Public School system. After she graduated high school, she attended and graduated from Dudley's Beauty Academy  as a Cosmetologist. During the summers of her early years, she attended Camp  Brown, which was facilitated by the Metropolitan Police Department. She enjoyed it  so much that she attended every year and eventually became a counselor. She also  started her own summer enrichment program for the children whose parents  would not trust them to anyone else. 
Her love for cooking started when she was a little girl watching her mom and  learning extensively from her Grandma Ruth, who enjoyed cooking for her family  and friends. Anyone who came to her home could always count on delicious  home-cooked meal. Jennie's grandma had a real passion for cooking and always took  advantage of the opportunity to show her everything she needed to know from  seasonings to preparation. 
Jennie has expanded her passion for cooking into a lucrative catering business and  has operated it for the past 10 years. She enjoys taking different seasonings/flavors and  infusing them to create healthy meal options.  
She now can combine her two loves, summer camp and cooking. She's excited to work  with the campers this summer and the summers to come.