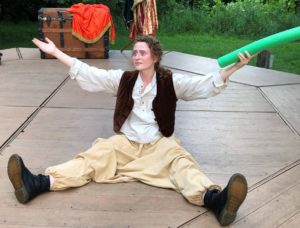 Madee Kline (she/her) is thrilled to be joining Traveling Players this summer as Assistant Director of Thespian Ensemble. Madee is a recent graduate from the University of Maryland, College Park, where she obtained a BA in Theatre with a focus in Performance. Her favorite roles include Twelfth Night (Olivia), Much Ado About Nothing (Hero) and The Comedy of Errors (Dromio of Ephesus). In both 2018 and 2020 Madee was selected as an Irene Ryan nominee at the KCACTF Region II.
In addition to being an actor, Madee is certified in unarmed stage combat and single sword by the Society of American Fight Directors. During her senior year at UMD Madee served as fight and intimacy choreographer for various productions including the main stage production of Hookman, directed by Nathaniel Claridad.
This summer Madee is excited to create a fun and safe learning environment for campers as they engage in stage combat and character development!