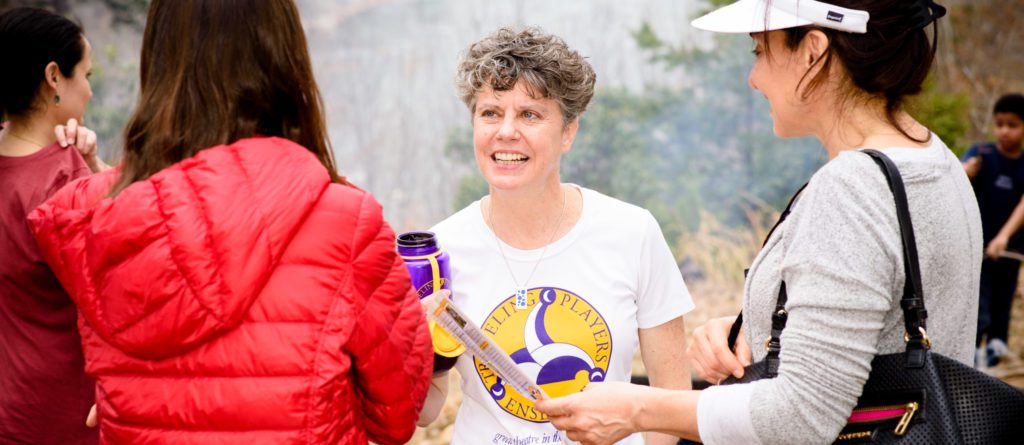 Got questions about Traveling Players' programs? Come meet us at the Open House!
Artistic Director Jeanne Harrison will be there to answer your questions about our programs, sleepaway camps, and what makes Traveling Players joyous, artistically challenging, and a place for friendships to flourish!
When:

Tuesday, May 23, 7:00 – 8:00 pm
Tuesday, May 30, 7:00 – 8:00 pm 

On Zoom! Stop by anytime.

Who: ALL Traveling Players interested in Sleepaway! (New & Prospective)

Even if you're still considering Traveling Players for this summer
Want to meet us before auditioning? Come!
In case you have missed the news, the CDC recommends 12–15-year-olds get the Pfizer Vaccine.  Traveling Players has a Covid Vaccination Center right next door!
We're throwing a Vaccination Celebration! Come get your Fauci Ouchie, then stop by the Studio for games, prizes, and a chance to catch up with all your friends — and make some new friends, too!
Where: Traveling Players Studio, Tysons Corner Center 1st Floor
When: Sat, June 5

10 – 11 am: Mythsters (grades 4-6)
11 -1 pm: Thespians (grades 5-8)
1-3 pm: Dramatists (grades 8-12)

Who: ALL Traveling Players! (current, prospective, former)

Even if you're still considering Traveling Players for this summer
Even if you aren't quite old enough to the shot,
Even if you can't join us this summer
Even if you already got the shot!
Want to meet the us before auditioning/registering this weekend? Come!
Have a friend who you've always wanted to bring to camp? Bring them along!

How: JUST SHOW UP – NO APPOINTMENT NEEDED! The vaccination center takes walk-ins and they don't care where you're from. Virginia, DC, Maryland, California — all are welcome!

If you'd like to make an appointment, visit this website and use the zip code 22102 to find the "Tysons Community Vaccination Center"
Most of our students are 12 and older, so 95% of our community could be fully vaccinated before summer — putting us in the range for herd immunity. We know that vaccinations are a personal choice, and we do not require them for campers, but for everyone's protection, we highly recommend campers arriving to camp fully vaccinated.  By coming this weekend, you will be fully vaccinated (both shots) and fully immunized (plus 2 weeks) on June 19, which is before the first day of camp (June 27)!  Our staff is required to get the vaccine and already has.
Hope to see you Saturday, and we cannot wait to spend the summer with you all!
Campfire Q&A / Virtual Open House!
Friday, May 21, 7-8 pm (EST).
Suitable for students in grades 4-12 and their parents/guardians.

We recommend that students and parents join on separate devices. We'll put you in different breakout rooms so that all your questions can get answered efficiently by the right people!

Event held online via Zoom.
Hosts: Jeanne Harrison & Morgan Shotwell
If you aren't able to attend the Q&A / Open House, you can click here to access a recording of the most recent session.
A transformative experience! My son and daughter have attended Traveling Players programs for many years.  It is the most important activity in both of their lives. The instruction in classical theatre is incomparable.  The outdoor skills and experiences are phenomenal. And the friendships and close, supportive community of kids are priceless.  Go!

— Parent