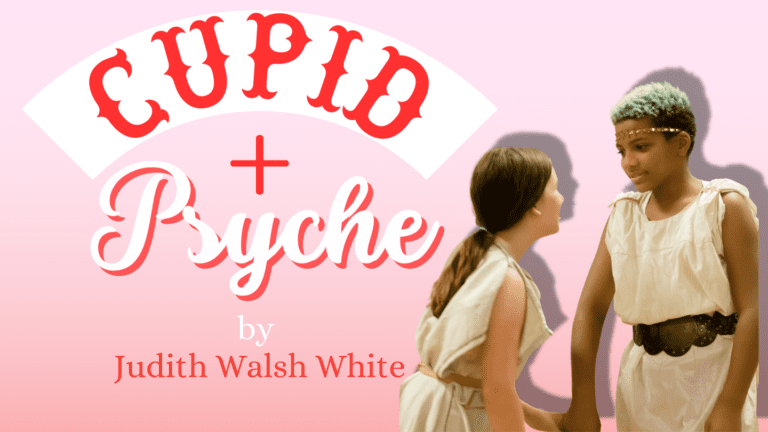 Come hear the World Premiere play our Mythology Ensemble will perform this summer!
Be one of the first to hear renowned playwright Judith Walsh White read her latest play, Cupid & Psyche. The play is based on the Greek myth and written in contemporary language. Judith will be joined by her husband, Chris White and together they will read all the roles. After the reading, there will be a talkback when the playwright will answer questions, possibly inspiring further edits to the script. 
The first performance of Cupid & Psyche will take place this July, showcasing the talents of the students enrolled in Traveling Players' Mythology Ensemble, a 2-week theatre summer camp. These young performers will perform in the play's World Premiere. 

Cupid & Psyche is the 9th script that Traveling Players has commissioned from award-winning playwright Judith Walsh White for our youngest performers.  Two of those nine scripts have subsequently been published, with Traveling Players performers listed as the original cast – an honor professional actors work their whole careers hoping to achieve. These plays have since received performances in Australia, Saudi Arabia, China, Canada, the UK, and Gibraltar, as well as throughout the US, including The Actor's Theatre of Louisville.
Synopsis: Outraged by the beauty of Psyche, a mere mortal, Aphrodite dispatches her son, Bad Boy Cupid, to trick Psyche into falling in love with a monster. But when Cupid arrives with arrows in his bow, he's stopped in his tracks. Why? Could the mischievous Cupid have been struck by his own arrow?
When: Sun, Mar 26, 4:30 – 5:30 pm
Facilitators: Judith Walsh White & Chris White
Price: FREE!
Where: The Traveling Players Studio!
Who: Free and open to the public!
Limited spots remain in the Mythology Ensemble this summer – audition soon! All roles are still available.